From the humble beginnings and excessive loading times in the 1990s, online product visualization has come a long way.
Today, brands can provide fully immersive 3D product visualizations to customers across the globe. The benefits of 3D product visualization are now clear to ecommerce retailers.
With the advance of modern imaging technologies, 3D product visualizations are helping brands to rethink what's possible with online shopping. From furniture retailers and luxury fashion brands to complex engineer-to-order products, the 3D rendering revolution is in full swing.
The 3D product visualization software market will grow by more than 20% over the next five years. Customers want to see their products in full 3D before making buying decisions – and what's good for the customer is good for the company.
Brands that want to retain their hard-earned customers (and attract new ones) will have to respond in kind. Let's look at the main benefits available from 3D product visualization.
7 Amazing Benefits of 3D Product Visualization for Ecommerce Brands
While we're still some way away from providing the same image processing power of the human brain, the last five years saw major steps forward in imaging technology. Along with increased network speeds and computer-aided design (CAD) tools, image-rendering technologies like WebGL make it possible to provide detailed, 3D product renderings in any browser.
WebGL works by:
Providing a three-dimensional canvas element (available in the latest HTML versions)
Interacting directly with a device's graphical processing unit (GPU) to render 2D and 3D images
Interfacing seamlessly with other JavaScript components and HTML elements on a webpage
By using these new digital technologies, brands can bring products to life using 3D renderings. Here are seven benefits available from 3D photorealistic visualization for today's ecommerce brands.
1. Delivers an Engaging Shopping Experience
Veteran online shoppers are used to seeing a static list of products with maybe one or two images per listing. This became the standard way to build and deploy an ecommerce shop for decades.
Not surprisingly, this experience left shoppers feeling anything but connected to a brand.
Recently, brands started flirting with the idea of optimizing the overall buying experience. Journey designs and personalized experiences became a hot topic for marketers. To engage with customers, brands had to improve their experience designs to attract more online shoppers. 3D product visualization fits perfectly into this new paradigm.
With interactive 3D images, customers can zoom in on different elements of the image and no longer have to guess what it looks like from different angles. The increased engagement means more conversions and that, in turn, leads to new loyal customers.
2. It's Cheaper than Traditional Product Photography
Another major benefit of 3D photorealistic visualization is that it is a lot cheaper than traditional product photography. Even if it's a new technology, the process used to create 3D renderings is much less labor-intensive than traditional approaches.
Using traditional photographs to demonstrate your products has many challenges. These include:
Shipping the products to the photographer and assembling them at the studio
The studio will have its own overheads that include special equipment like light lights and backgrounds
For scene images, you may have to rent an additional location and transport everything there
You will have to pay for the labor costs of the product stylists and professional photographer
It may be necessary to include props that suit your product within the scenes you want
You'll also have to cover the costs of post-production and image editing
A 3D visualization solution by comparison only requires:
Creating an inventory of the products you want to visualize in 3D
Converting those product designs into wireframes using the exact dimensions
Adding artificial lighting and rendering the image in a 3D canvas (that may include other 3D elements)
The price difference may even surprise you. Some 3D product modeling companies can give you better results at 20% of the cost you'd pay for traditional product imagery.
3. 3D Visualization Works Great with Product Personalization
Customers want personalized products – and are willing to pay a premium to get them. When you combine 3D visualization and product personalization, your brand will stand out from competitors who don't offer these options.
A 3D product configurator like the one used by Franklin Sports gives customers a fully immersive, product customization experience. While customers can see a 3D model of the sports glove they want, they can also make changes and see how it will look in real-time.
With 3D product configurators, you can:
Zoom in, rotate, and change the angle of the glove
Choose from a range of colors to match the sports team's uniform
Change the material on certain parts of the gloves for improved performance
Add a monogram to the glove to make it unique to the person or team
With the 3D product personalization abilities of Franklin Sports, customers have complete control over the glove's final design. As customers can also see the changes in real-time it provides a truly immersive buying experience.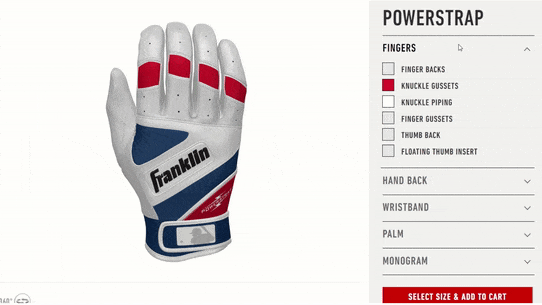 4. 3D Models Increase Consumer Confidence
With interactive 3D images, consumers are more confident when making buying decisions. As the customer can see exactly what they're buying from all angles, you can increase conversions by as much as 40% simply by increasing their confidence in a product.
By interacting with product images and seeing real-time updates when applying personalized options, customers get a clear and definitive view of the item. The buying journey gives customers an emotive response and builds trust with your brand's products.
If you look at an example like the Fender Mod Shop, you can see that these things matter to your customers. The ecommerce store allows customers to personalize a guitar or bass and view it in full 3D from any angle. When a customer is happy with the design, they can share it on social media to hear what others think before buying the product.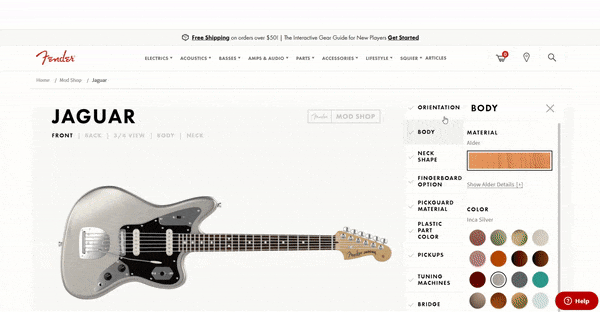 5. Gives You a Foothold in Social Commerce
Social commerce is a rising trend where organic shares online help attract new customers to your store. With rich and engaging visuals, customers are more prone to sharing their selections with others in their social networks.
The use of social commerce is becoming a major factor in your marketing efforts. Consumers now look for products on social media platforms like Instagram and Facebook. Most customers will also research what others on those platforms have to say about the product.
3D visualizations allow your customers to create snapshots of a product and share it online, letting you reach a wider audience organically. When the associated social media posts are positive, you'll also benefit from the increased brand trust that it brings.
3D product renderings are now essential to providing improved ecommerce and social commerce experiences and in turn, attracting new customers to your site.
6. Makes It Easier to Implement Augmented Reality
The future of 3D visualization is augmented reality (AR) experiences. If you have your 3D product renderings available, it's easier to create an AR experience to match your new visuals. AR is changing how consumers interact with products online and helping brands to engage better than ever.
Some of the main uses of AR and 3D visualization include:
Virtual product placement – Brands can allow customers to place a product in their own environments to see how it fits within their homes or offices.
Try before you buy – Fashion ecommerce brands use AR to let customers try on clothes or accessories and see how it looks before making a buying decision.
Product matching – In beauty and makeup ecommerce stores, customers can test out different shades to see how it matches their current styles and skin tones.
Gamified shopping experiences – Some brands use AR to let customers unlock exclusive content by interacting with ecommerce stores at real-world locations.
Combining 3D visualization and AR in your ecommerce store will help you future-proof your brand's products and amaze your customers for years to come.
7. Implementing 3D Visualization is Easier than You Think
Many brands are hesitant to implement 3D visualization as they think it's complicated and expensive. As we've mentioned before, the cost is less than traditional photography but it's also easier to implement than you'd expect.
A 3D product personalization platform makes it easy to deploy your interactive models on any ecommerce site. You can deploy new products quickly and administer your listings from a single, easy-to-use interface. Your customers benefit from rich and engaging 3D visuals and you don't need to be a product design expert to deploy these features.
With a platform like ConfigureID, brands can deploy 3D photorealistic visuals, add product personalization, and integrate the system with any of today's ecommerce sites.
Harness the Power of 3D Product Visualization with ConfigureID
For brands that want a smart, intuitive solution to deploy rich and immersive ecommerce experiences, ConfigureID provides the perfect solution. Our team will work with you to design a 3D visualization roadmap and walk with you every step of the way.
By working with the world's leading luxury brands, our product personalization solution gives you all the tools and features you'll need. You can deploy 3D product visualization, personalization, and augmented reality experiences from a single, universally compatible platform. To start harnessing the power of 3D product visualization for your online store, reach out to schedule a demo with ConfigureID today.