From your order at the coffee shop to your new pair of sunglasses or handbag, companies strive to deliver exactly what you individually want.
There's little wonder why. Research from Deloitte shows that 1 in 5 consumers find product personalization appealing. And better yet, they're willing to pay a 20% premium for personalized items.
The benefits of product personalization are clear, but how can you get started?
One of the best first steps, is to take some inspiration from brands that have established successful product customization and personalization programs.
With that in mind, here are six great examples of product customization done right.
The Top 6 Product Customization Examples Out There Right Now
Many of today's top retail brands offer personalized and customized products on their websites. We've rounded up some of the top product customization examples online for your consideration and inspiration.
When you want to nail product customization like a pro…
1. Take Thoughtfulness to the Next Level like Louis Vuitton
What's the first thing you notice when you click on Louis Vuitton's selection of gifts for women?
For one, it's not an interface with a single product and countless personalization options. Instead, it's a thoughtfully curated collection from the breadth of their brand, all centered on a single theme: these items make ideal gifts.
Although plenty of brands let you filter the search for products that are customizable, Louis Vuitton executes it neatly by turning that filter into a collection itself. That has the effect of elevating the process of shopping for a customized gift, putting personalization firmly back into the realm of luxury.
Why we love it: Louis Vuitton showcases how luxury brands sell experiences, not products. When you shop this collection, customization almost takes a back seat to the ability to choose the perfect gift.
And the personalization? It's the thoughtful finishing touch to make your gift truly memorable.
Via Louis Vuitton
Shoppers will pay as much as 25% more for products they can customize in 3D. What will offering 3D product personalization do for your bottom line?
Let's Talk
2. Embrace DIY as Stylish like Ray-Ban
For a long time, "do it yourself" belonged to the realm of the thrifty, the resourceful, and the crafty—not really traits you'd associate with luxury retail.
That's not true anymore. Businesses like Ray-Ban changed the game by reinventing what DIY means with their highly-successful "Design Your Own" program.
When you DIY your glasses with Ray-Ban, you're not thrifty and resourceful. You're expressive and independent—traits that objectively look stylish on anyone.
The end result? A high-end product with an air of approachability. Unlike with Louis Vuitton, customization is front and center…but it's fun. Like you.
Why we love it: Ray-Ban has one of the best product visualization and customization interfaces out there. The interface lures you in by indulging your senses and creativity. Examples and demos bounce in and out of your screen, creating an airy and playful vibe. It's colorful, fun, and takes advantage of all the latest in high-quality product visualization.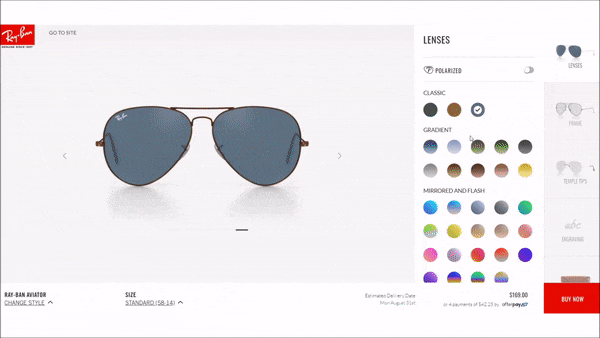 Via Ray-Ban
3. Adopt a "Your Style is Our Style" Attitude like Oakley
Why would anyone need to customize everything on a pair of sunglasses—from the lens shape, type, and color to the personalized name, monogram, or other text etched on the lenses? To allow you to your style and personality to shine through in every single element, of course.
Whether customizing an item from Oakley's sports or lifestyle collections, the emphasis remains on the performance element of their product. These sunglasses are for winners, and the customization options allow you to associate with that vibe.
You can even get a personalized etching on the lens, so there's no mistake about who or what you represent when you go out there and win.
Why we love it: Like with Louis Vuitton, Oakley also approaches product customization from the perspective of experience. You aren't only buying customized glasses; you're investing in a one-of-a-kind and stylish product that reflects your identity.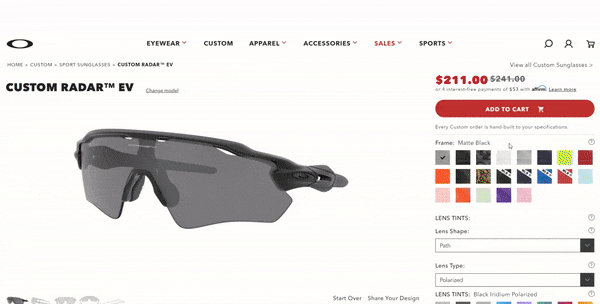 Via Oakley
4. Offer a Wide Range of Customization Options like Fender
Investing in product customization software that lets you create rules to govern combinations is extremely important. You never want to offer what you can't produce.
But what if you could offer a massive set of choices?
Then, by all means—offer all the options. That's what Fender does.
Unlike the previous product customization examples, which vary in the breadth of their options, Fender gives you control over almost every single aspect of your guitar.
That means you're not just getting an instrument built for a professional musician. You're getting your dream guitar while knowing there will be literally no other instrument like it.
Why we love it: The sheer amount of customization options offered by Fender are coupled with a stunning interface that showcases the true power of personalization software.
Not only do you get to visualize every single part of your build in real-time, with true-to-life colors, but you also get a 360-degree view, the option to print, and the chance to post your customized beauty to an online gallery.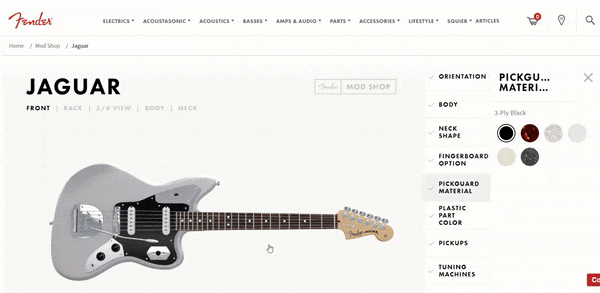 Via Fender
5. Stay True to Your Brand like Ralph Lauren
How do you leverage customization when you've built your brand around a specific way your products look?
Start by paying attention to the details.
Ralph Lauren is known for its polo shirts, but with their "Stitch It" experience, you can create your own. Choose from a curated selection of logos, monograms, and flags. You can even get embroidered text on the back for your team or kids, as well as some extra flair on the hems.
Why we love it: Ralph Lauren offers a great example of product personalization for brands that want to ensure the appearance or form of the product stays completely on brand. Rather than offering a vast amount of customization options, the personalized product details are tastefully discreet and uncommon, reinforcing an air of exclusivity.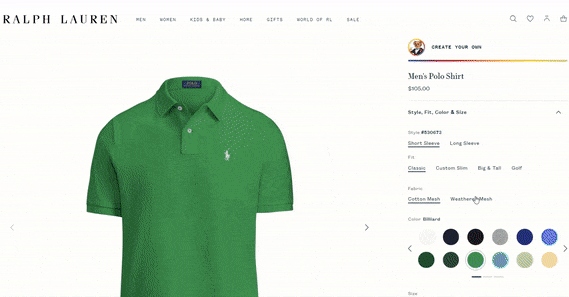 Via Ralph Lauren
6. Make the Professional Personal like Franklin Sports
There's probably nothing else in the world that could excite an aspiring baseball athlete other than the same batting gloves used by their favorite player—except maybe if they were customized just for them.
Franklin agrees, which is why they allow you to build your own batting gloves with near infinite color combinations.
They chose the three most popular baseball gloves used by professional players and then opened up as many style options as possible for each.
Why we love it: Franklin is a great example of how to give customers control over as many elements as possible. From text personalization and monograms to things like the color of the piping around the logo, you can create a unique set of gloves that truly stand out.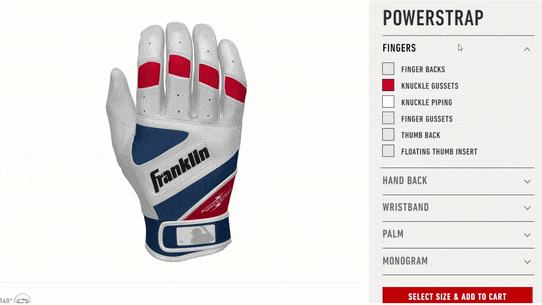 Via Franklin Sports
Rock Your Product Customization & Personalization with ConfigureID
Schedule a Demo
We've covered six product customization examples from leading brands that all use ConfigureID's platform to power their successful online product personalization programs. Whether you sell luxury handbags, sunglasses, apparel, or any other type of consumer product, offering product customization and personalization is one of the best ways to increase brand loyalty and product margins, while creating a memorable and truly "Instagrammable" experience for your shoppers.
Remember: done right, product personalization offers more than just unique products. It creates an experience, and that's what your customers want.
Want to rock your product customization and personalization like these brands? Discover what ConfigureID can do for you.