In this blog post, you'll discover three key ways your online retail business can benefit from 3D product visualization and augmented reality (AR) technologies.
COVID-19 has forced brands to reinvent themselves in many ways. This includes providing online experiences that match or exceed in-store shopping.
According to data from Digital Commerce 360, online consumer spending with U.S. retailers grew 30.1% during the first six months of 2020. To match the new ecommerce shopping expectations, top brands are striving to take the in-store experience online.
Creating this new, interactive digital shopping experience depends on technologies like 3D product visualization and augmented reality (AR). Both are now much more accessible for the web, making them ideal for ecommerce sites.
With 3D technology, you can view a product in all dimensions by spinning it around with your finger or mouse. This mimics the experience of holding the product in your hands in store.
AR technology allows you to try on a product virtually. For example, you can try on sunglasses on your face or view a piece of furniture in your living room with your device's built-in camera.
If you need a bit more convincing, here are three key ways your brand can profit from 3D and AR technologies.
1. 3D imagery improves conversion rates by up to 40%
TSUM, one of the largest luxury goods department stores in Europe, increased their conversion rate by almost 40% by providing 3D product imagery.
3D product visualization increases conversions by making shoppers feel more confidence in the product. They feel confident that what they see on the screen is what will arrive at their doorstep.
A 3D model allows a customer to rotate a product and see it from any angle. They can zoom in and out without losing image quality. And they can view product details like colors, seams, and textures in photo-realistic quality.
Rotating 3D products on the screen also reflects light in the model. For example, it allows metallic materials to shine, just like they do in real life.
3D product images help customers better understand what they're buying. This leads to greater conversion rates, increased average order value (AOV), and decreased returns.
Check out this example of a 3D product configurator built by ConfigureID for Franklin Sports: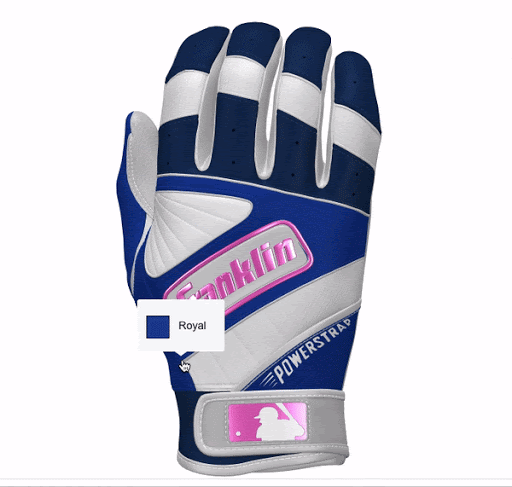 2. AR increases purchase conversion rates by up to 65%
Imagine if your customers could try on your product or view it in their home from the comfort of their living room. This once far-off dream has now become a reality for a growing number of online retailers.
AR technology is becoming more popular in ecommerce. Some of the most prominent use cases include eyewear, apparel, jewelry, and furniture – but the possibilities are endless!
Like with 3D visualization, trying out a product with AR helps online shoppers feel more confident. And this also helps increase conversion rates, AOV, and greatly decreases return rates.
Here's an example of Ray-Ban's Virtual Mirror feature. It allows you to try on their sunglasses using a webcam thanks to augmented reality technology.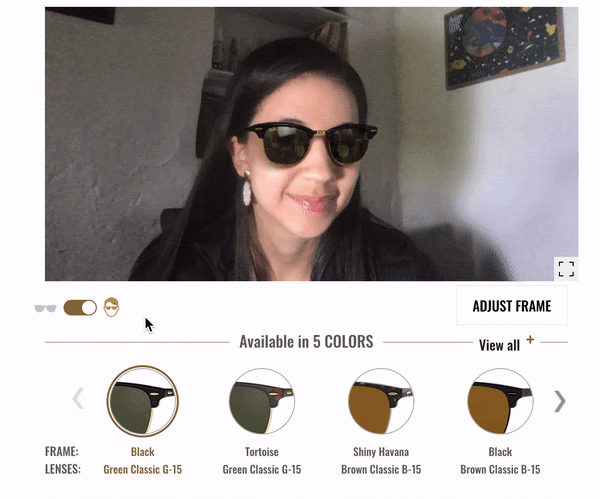 AR has also become more available for the web in recent years. And this has allowed more retailers to offer customers in-store-like experiences online.
According to the CEO of Rebecca Minkoff, visitors become 65% more likely to make a purchase when they view a product in AR.
For retailers, more informed purchasing decisions also mean customers are less likely to return a product. This is because trying out a product through AR helps mitigate the possibility of a mismatch in size, color, or quality. By offering virtual try-on experiences through AR, retailers can reduce returns by up to about 25%.
With these incredible results, it's no surprise retailers are racing to add augmented reality to their ecommerce stores. And it's clear that consumer demand for AR will continue to rise as the technology becomes available on more devices.
How can you get started with AR?
The first step is to create high-quality 3D models of the products you'd like to offer in augmented reality. If you already have the models, you're one step closer to creating this immersive shopping experience.
AR is one of today's most important trends that is revolutionizing digital commerce. Consumers will quickly come to expect an augmented online shopping experience. So, don't let your brand fall left behind the curve!
3. 3D visualization is perfect for product customization
Today's consumers no longer want to be one-size-fits-all shoppers. They want to be co-creators of unique items that reflect their personality and style.
3D visualization technology is a great match for product customization. It allows consumers to create one-of-a-kind products through engaging and interactive experiences.  
Product configurators allow shoppers to customize colors, patterns, materials, text, and much more. To offer the best possible customization experience, photo-realistic and interactive product imagery is key.
A carousel of static images has traditionally been used to display different views of a product. But this approach is becoming obsolete as it can't always accurately represent the product and offers very limited interactivity.
Product customization software with 3D visualization like ConfigureID provides a much more engaging and flexible user experience. It can help your brand maximize ROI while strengthening brand loyalty.
Conclusion
Emerging technologies like web-based 3D and AR are drastically changing digital commerce. And capturing the attention of today's online shopper requires more immersive and photo-realistic experiences.
Adopting these technologies is key to staying on top in today's highly competitive online retail landscape. But it's not quite enough. To truly stand out from the pack, you'll need to offer something more.
Providing engaging product customization along with 3D and AR will give your brand a clear competitive advantage. This unique combination can help you achieve greater conversion rates, lower return rates, as well as happier and more loyal customers.
Interested in learning more about ConfigureID? Request a demo today and discover our industry-leading product customization and visualization platform!