In the new era of hypercompetitive ecommerce, brands are winning over customers with novel ways of displaying products.
And what better way to do that than to invite your customers to design their own product, while providing real-time, photorealistic visualizations that take away the guesswork from imagining what the final product will look like?
Enter: the 3D product configurator, a new technology that's transforming the way brands present their products online.
Here's everything you need to know about what 3D product configurators are, how to identify which one you'll need, and what features to look for before you make a choice.
What Is a 3D Product Configurator?
A product configurator is an interface on your website that lets shoppers customize or personalize a product with specific options. If you've ever been shopping online and were allowed to select the specific colors, patterns, textures, or input things like text that will appear on the product, you've used one.
Some product configurators are flat, or two-dimensional. This means they're simply images that switch out as you select various options. However, more advanced configurators create three-dimensional renderings of a product, with features that change as the customer adds various specifications.
One of our favorite examples is the Franklin Sports custom batting glove configurator. It allows shoppers to select from a wide variety of colors, textures, and materials. And better yet, it allows customers to see their custom selections on the 3D glove in real time.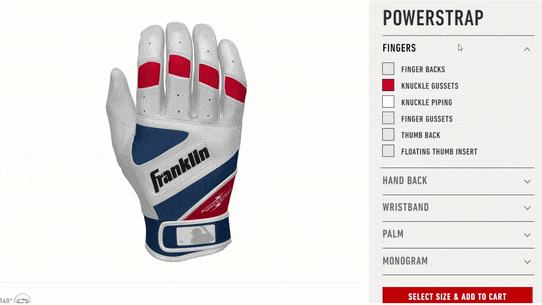 Via Franklin Sports
Ready to create a hyper-personalized customer experience? It's time for your brand to offer the ultimate in product personalization. Book your demo now!
Schedule your Demo
The Advantages of 3D Product Configurators
3D product configurators increase add-to-cart and purchase rates as they make it much easier to visualize the final product. Advanced 3D visual configuration tools will offer you many impressive features, including the ability to:
Rotate the product in every direction
Zoom in and out on different areas of the product
Replace costly 2D photography with photorealistic 3D renderings
Show the user their selections on the 3D model in real time
Eliminate any mystery as to what the final product will look like
What Sort of 3D Product Configurator Do You Need?
A solid product configurator is essential if you want to embrace the competitive advantages of product customization and personalization.
A 3D product configurator can raise the bar even further by creating a sleek and memorable shopping experience.
However, not all product configurators are created equal, and not all businesses need the same capabilities. In general, there are three different types of product configurators out there. You'll be able to find 2D and 3D versions of all of them:
Customization-oriented configurators. These are often simpler and more straightforward (though they can be quite complex). You'll supply the options and determine the valid configurations. Your customer gets to choose from there. Customization-oriented configurators are great for most businesses that offer color, pattern, texture, and material choices.
Personalization-oriented configurators. More powerful configurators can handle user-generated content input into the interface. This may include text, images, or other details. We've seen these used on everything from apparel to accessories and home décor.
Parametric configurators. In these configurators, users input parameters – like apparel measurements. You'll mostly come across these on sites selling made-to-order products.
To help you visualize these three configurators, imagine you own an online shoe store:
Customization configurator: your customers can select various colors and the style of laces.
Personalization configurator: your customers can add their monogram or name to the shoes.
Parametric configurator: your customers can measure the width of their feet, and you'll build a shoe that fits only them.
What Every 3D Product Configurator Needs
All good 3D product configurators have a few things in common. Before you subscribe to the service, make sure you're getting:
1. Photorealistic 3D Product Visualization
It's well-known that quality product visualization increases conversion rates by as much as 50 percent.
Many configurators will use photographs of the actual product, but some use modern 3D technology like WebGL to visualize customized products. Spend time examining these to determine just how close to reality they actually are. The more lifelike it is, the more confident your customers will be in the final product.
2. Complex Business Rules
Customization is great, but it can quickly get out of hand when your customers start asking for combinations that aren't practical or even possible.
Having the ability to lay out rule-based combinations eliminates this problem. By determining ahead of time what combinations are valid, you'll not only speed up the sales cycle but eliminate potential snags down the road.
3. Universal Compatibility
According to G2, there are over 200 ecommerce platforms out there. Many of them are highly specialized, catering to industries or even narrower niches.
Are you using one such platform? It's a good idea to check your chosen configurator for universal compatibility.
Universal compatibility means that the integration will work with any platform. That means you'll not only be able to use it with your highly specialized ecommerce platform but also if you decide to switch to something more mainstream down the line, such as Salesforce Commerce Cloud (SFCC), Magento, or Shopify.
4. Dynamic Pricing
Offering customization and personalization options are a great way to upsell to your customers, thereby increasing product margins. Make sure your configurator makes the process as seamless as possible with dynamic pricing.
In dynamic pricing, the cost of the item will update in real-time as the customer selects various options. That means no surprises for the customer, and no extra work on your part to update the price after the fact.
5. Multi-Device Accessibility
Did you know that approximately half of all internet browsers will visit your site on their smartphone?
Your product configurator also needs to work on mobile, tablet, or any other device that your customers might use. Make sure it does, because if your site doesn't work, they're going to leave – and not come back.
Get Customization & Amazing Visuals with ConfigureID
A 3D product configurator is a powerful way to entice customers to convert. We've looked at exactly what they are, what types you might want to consider according to your business, and what features you must have to maximize the business value.
ConfigureID can do everything above, and more. If you're looking to present a sleek 3D product visualization interface and empower your customers to design the perfect product, we've got your back. Request your free demo now.