If you thought you still had time to mull over whether or not to provide a 3D shopping experience to your customers, think again. The next decade will see major changes in how consumers interact with ecommerce brands and 3D retail stores.
Technologies that provide interactivity, photorealism, 3D modeling, and augmented reality (AR) should now form part of your product and merchandising strategies. Just last year, research conducted by Harris Poll found that 60% of shoppers want 3D and AR included in their online experiences.
In fact:
From nearly 2,000 respondents, 66% noted that 3D and AR gives them confidence that they are buying the correct product
Another 45% reported that they would be willing to pay more for products that use 3D rendered models and AR experiences
In the U.S., 35% of shoppers said they would happily never go to a brick and mortar retailer again if they had their way
These figures alone should make every product team and ecommerce brand sit up and take notice. Consumers are adapting, and retailers need to respond. In April, the Khronos Group announced the formation of an exploratory committee to establish standards and guidelines for 3D retail stores and virtual shopping apps.
With all these indicators, it's clear that every ecommerce brand will need to invest in 3D shopping experiences to remain competitive in the future. This guide will help you understand what 3D shopping is and why customers now want to discover, explore, and purchase products using a virtual shopping experience.
What is a 3D Shopping Experience?
3D and AR technologies allow retailers to build virtual models of products and enable customers to interact with these items in a virtualized environment. Also called virtual shopping, these technologies aim to bridge the gap between ecommerce brands and the real world.
Customers can zoom in and out on different angles, rotate products, pull up additional information, or even place items inside their real environments before making a purchase.
Some retailers also provide a complete, 3D virtual store on their website, similar to their brick and mortar outlets. These immersive experiences use 3D product visualization and rendering and often have customizable options available with a product configurator.
The main use cases where 3D shopping is gaining the most traction include:
Configuration – Items that allow customers to add or customize features of a product
Try on – Customers get to see what an item will look like on their body, including hair, makeup, beauty, and apparel
Try out – Products that customers want to place inside a real environment that include automotive, home appliances, or furniture
Interact – Electronics and other interactive products that require layout or assembly before buying
Once a customer is happy with their selection, they complete the buying journey just like any other ecommerce checkout process.
Take a look at how Fender provides guitar fanatics a 3D customization experience for all eight models in their Mod Shop.
Via Fender
What are the Benefits of 3D Shopping Experiences?
It's clear that consumers want these experiences, and the brands that provide them are realizing the value quickly. According to Deloitte, 46% of retailers planned to deploy AR and 3D shopping experiences in 2020.
While every use case will have different benefits, the main value of these experiences are:
Increased engagement – The gamification of a 3D shopping experience increases customer engagement by allowing them to interact with products
Better information – Where customers aren't sure about a product, 3D models and AR give them clarity about everything from the size to the texture of the item
Intuitive and useful – Products exist in 3D in the real world, and AR allows customers to investigate how an item would fit inside their environments or on their bodies
By deploying a 3D shopping experience, your ecommerce brand can boost conversions, increase customer loyalty, and maximize your average order value.
Our customer, Franklin Sports, has seen greatly increased engagement and conversion rates since taking their batting glove configurator 3D in 2020. Check it out for yourself to see why.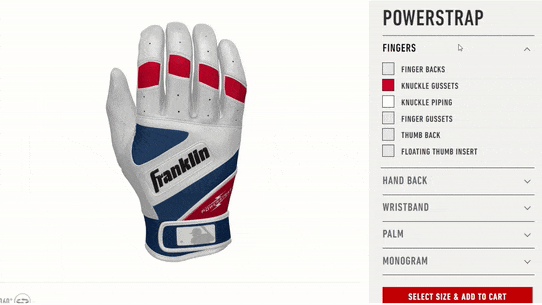 Via Franklin Sports
How to Build a 3D and AR Shopping Experience
With any new technology, there will be a learning curve, and ecommerce businesses will need some help to get started. In the case of 3D product rendering, the underlying technology is the WebGL graphics library that gives you the ability to create a 3D space within compatible web browsers.
Without getting too technical, WebGL 2.0 is part of the ECMAScript using the HTML5 canvas element. All major web browsers now support WebGL without the need for any additional plugins or add-ons. This allows you to build 3D models of your products and define everything including vertex positions, surface textures, vectors, scaling, and transformations.
As these properties will determine the final 3D rendering of the object, you'll need some experience with the modeling and implementation of your 3D products. There is a wealth of information available online if you want to get started yourself, or you can opt to use an experienced 3D modeling and AR solutions platform like ConfigureID.
Check out how WebGL allows Hydro Flask to offer its water bottle customization experience in 3D in any browser, without the need to download an app.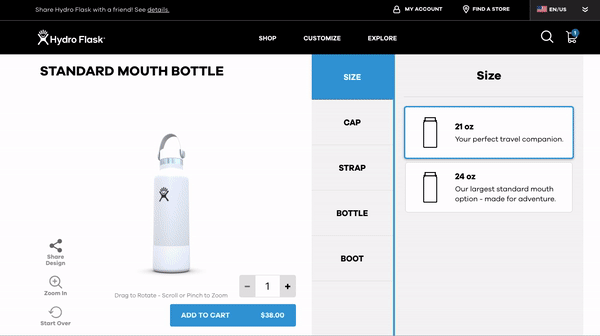 Via Hydro Flask
How to Include AR in Your 3D Shopping Experience
Getting your 3D products into an AR environment is more complicated. You'll need an AR app that uses a camera to create a real-world-based, augmented environment. Your virtual object database provides the app with the products available for placement, allowing you to overlay objects on the camera's images.
A typical workflow for 3D and AR product visualization will include:
Creating your 3D assets based on your product catalog
Determining the feature detection points based on a camera image using vertical, horizontal, and angled surfaces
Using motion tracking to adjust the position of the 3D object inside the AR environment
Evaluating the lighting of the AR environment and rendering the 3D object to suit the conditions
Optionally adding an AI chatbot to assist shoppers with different interactions
Luckily, Apple's ARKit and Android's ARCore technologies shipped a few years ago, meaning that most customers already carry the technology needed to view AR experiences in their pockets. The Khronos Group is working to make future implementations of 3D and AR shopping experiences easier, with WebAR enabling 3D shopping experiences without the need for a mobile phone.
What are the Top Use Cases for 3D Shopping Experiences?
As the underlying technology supports multiple different implementations, you'll need to determine how to best use 3D product visualizations and AR environments for your ecommerce brand. Finding value in the technology starts with how you want to demonstrate your products within an immersive, 3D shopping experience.
Some of the product categories where the technology has matured quickly include:
Home goods and furniture – Companies like Ikea created significant disruption with their Place app, allowing customers to easily position any piece of furniture into an augmented environment. Along with all the personalization options available including colors, styles, and patterns, users can visualize how a product will fit inside a room, which leads to increased conversions and a reduction in returns. 3D and AR shopping experiences are now becoming an industry standard for furniture ecommerce brands.
Clothing, apparel, and shoes – Another area that saw the rapid adoption of 3D and AR tech was in clothing and apparel. Nike provides both personalization and try-on features from their ecommerce store and is using gamification to maximize conversions for custom sneakers on Nike Day every year.
Beauty and makeup – Getting customers to trust what a specific shade of makeup will look like requires brands to overcome a host of technical challenges, including color fidelity and facial recognition. With improvements in these technologies, more beauty brands like L'Oréal are providing AR and 3D experiences that saw engagement time doubling and conversions tripling with their Virtual Assist app.
Automotive – Both Audi and Toyota started experimenting with virtual showrooms to reduce the physical space required to demonstrate all their models. Customers can also interact with vehicles and configure different parts and features before making a purchasing decision. Audi uses an in-store experience to let customers engage with models not physically located in the showroom, while Toyota allows customers to virtually place models in AR environments.
What Else Should You Consider if You Want to Enable the Best 3D Shopping Experience?
Finally, ecommerce retailers need to remember the essentials when it comes to designing a 3D shopping experience. The same rules that apply to 2D shopping experiences will hold when moving to a 3D and AR customer journey.
The main things to remember are:
Eliminate all friction points from the customer's journey (ensure there are no glitches in your 3D products and that everything works, to avoid frustrating customers).
Include product customization and personalization options to increase engagement and strengthen brand loyalty.
Enable customer service and post-sales support as part of your journey, including automated chatbots and access to sales agents when necessary.
Design the product pages for usability and make all the features, options, and 3D controls easy to understand with tooltips, clear layouts, and visible buttons
Build Next-Generation 3D Shopping Experiences with ConfigureID
If you want to stand out from your competitors, the best way to build your 3D and AR shopping experiences is to partner with ConfigureID. Our expert 3D modeling capabilities will allow you to quickly build and deploy photorealistic 3D models of your product. These models are easily plugged into our award-winning product configuration and personalization platform, integrating seamlessly with your ecommerce site.
But don't just take our word for it. Discover how we've helped Fender, Hydro Flask, and Franklin Sports create incredible 3D shopping experiences that increase margins and revenue.
To discover what 3D shopping experiences are possible for your brand, request your free demo of ConfigureID today.