Starting in 2020, companies were forced to address a considerable leap in the digital-first marketplace. Some were prepared, while others were caught off guard. As these companies catch up to their competitors, many struggle to create a truly engaging customer experience (CX) online. And product rendering has become an essential part of developing a positive customer experience for shoppers. 
Finding Success in the Ecommerce Marketplace
Retail Economics and NatWest found that nearly 32% of shoppers feel the pandemic has permanently changed their shopping habits. In the UK alone, the same study found that 46% of shoppers now purchase products online that they previously purchased in store. 
What you should know about online shopping:
In 2021, 27.6% of the world's shoppers (roughly 2.14 billion) are shopping online.
People have become savvy shoppers. But even if you get the customer in your store, 33.6% will spot check price comparisons on their mobile devices.  
Two-thirds of businesses are now competing in customer experience management.
If your business focuses on customer experience management, you could double your revenue in about three years. 
Business owners who want to succeed in the ecommerce marketplace should aggressively shift their mindset to creating a customer journey on their digital platform. Those who are successful will be able to generate the same feelings associated with in-store shopping while online. Your site may have a visual look similar to your store, but some aspects of in-person shopping are hard to replicate.
Customers who shop in-store may enjoy the tactile feel of clothing or the ability to choose a product from multiple colors. You can recreate the same feeling customers get while shopping in your store with high-quality product rendering. 
One of the most advanced types of product rendering is done using WebGL, a JavaScript application that makes 2D and 3D images of your products.  With this technology, your customers can view and interact with your products in 3D using any web browser.
Step Up Your CX With 3D Product Customization
3D product rendering with WebGL makes it much easier to offer online product customization (another great way to step up your CX).
You can use 3D product rendering to offer custom detailing, choice of colors, fabrics, textures, and more. It engages the customer, gives you data on what shoppers are looking for, and creates options for your products. The interactive engagement and design options can build a successful customer journey and an exceptional online shopping experience.
Check out how Franklin Sports leverages 3D product customization for its line of custom batting gloves. This 3D configurator allows baseball lovers to create a glove that matches their personal style to a T.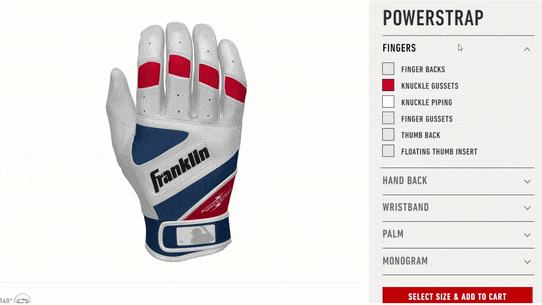 Via Franklin Sports
Accurate Product Rendering is Crucial for Success
When you create an accurate product rendering or 3D model for displaying your products online, it gives customers a better view of the product details. It can also help engage customers as they play with models before choosing their product. Here, accuracy is essential for the product to meet the expectations of the customer upon delivery.
Accurate product rendering helps:
Increase Engagement: Even when customers don't purchase, the engagement created using 3D product rendering will bring them back to your brand.
Gain New Customers: You can leverage your high-quality 3D models to create highly engaging video marketing campaigns that help you attract new customers.
Reduce Product Returns: Offering high-quality product visualization means customers will be firmer in their purchases and you will see fewer returned items.
Product Rendering Is at the Heart of the Customer Experience
Shoppers have changed their buying habits. And companies are responding by investing in a solid customer experience strategy.
Why should your company focus on the customer experience? 
Shoppers have put a dollar amount on having excellent customer experiences, and 86% will spend more to have it. In addition, product rendering costs have decreased while the technology has significantly advanced. It's a win-win for both the customer and the business. 
You can learn more about customer experience management and its benefits through these critical facts:
Customer engagement encourages on-the-spot purchases. After a more personalized experience, 49% of shoppers made impulse purchases in addition to what they were initially targeting. 
Companies that develop top customer experience engagement can expect to earn 5.7 times the revenue of their competition that doesn't. 
Those businesses that focus on a customer-centered experience demonstrate 60% more profits than those that are not. 
A study by Temkin Group found that large corporations with more than $1 billion in annual revenue can expect a return of up to $700 million within three years of implementing CX management. 
Augmented Reality Product Rendering Boost Sales
Augmented reality, or AR, is a new technology that enables shoppers to experience your products virtually in their own environment. For example, online furniture stores can use it to allow customers to digitally place a table or sofa in their home to see how it will fit.
If you already have realistic 3D models of your product, you can easily integrate AR visualization. These technologies work together to allow your shoppers to view the product in their environment, rotate it, and see accurate close-ups from any angle.
Ecommerce success may count on you knowing these essential facts about augmented reality and shopping trends:
By 2022, 25% of the world's population is projected to be using AR.
A survey of online shoppers demonstrated that 63% claim AR improves the shopping experience. 
Additionally, 49% of shoppers would pay more for a product they could preview in an AR environment.
Handheld devices are expected to have a CAGR of 45% in the next seven years. 
In 2020, 35% of survey respondents in the US had used AR product visualization at least once a month.
When consumers can better visualize the product in their own homes, it increases conversion rates and boosts consumer confidence in your product and brand.
Immersive Product Visualization from Industry Leaders
When your company chooses to add 3D product rendering and AR to your ecommerce experience, talk to industry leaders who have the expertise to help you create an engaging experience for your shoppers. Leadership and creative direction from companies like ConfigureID will add the polish you need to excel in customer engagement.
The world's top brands are already stepping up their customer engagement strategies using ConfigureID's product personalization platform. We provide 3D and AR product personalization experiences that captivate shoppers around the globe for leading retail and luxury brands.
Looking to take your customer experience to the next level with 3D and AR product personalization? Request your free demo of ConfigureID now to get started!