Returns aren't fun for anyone, but they're a reality in the ecommerce world – and their prevalence is growing. In this blog post you'll discover seven effective strategies for minimizing online customer returns.
In 2019, online returns cost companies $41 billion collectively. And on average, 8.8 percent of products get returned. 
Wouldn't it be nice if there was a way to reduce the return rate and minimize that cost for your brand?
As it turns out, there are many steps you can take to ensure customers receive (and keep) a product they love.
Here's how to reduce online customer returns in seven easy steps by making sure your ecommerce customer experience stays on point.
7 Simple Strategies to Lessen Online Shopping Returns
Customer returns happen for a lot of reasons. Sometimes, the product legitimately doesn't work out. Other times, it's the result of fraud.
Whatever the reason, customer returns represent a huge cost for brands. Here are seven things to consider when looking for ways to reduce customer returns.
1. Provide High-Quality Product Descriptions and Visuals
How many times have you found the absolute perfect thing online … that looked nothing like the images when it finally arrived?
It's annoying. It's also avoidable.
High-quality product descriptions and imagery help your shoppers understand the item they're ordering, greatly reducing the likelihood they'll decide to return it.
What's more, studies have shown that interactive 3D product visualization and augmented reality (AR) experiences can increase conversion rates by up to 40% and 65% respectively. 
With these impressive results, it's easy to see how investing in these technologies can pay off quickly. The Franklin Sports Powerstrap baseball glove is a great example of top-notch 3D product visualization: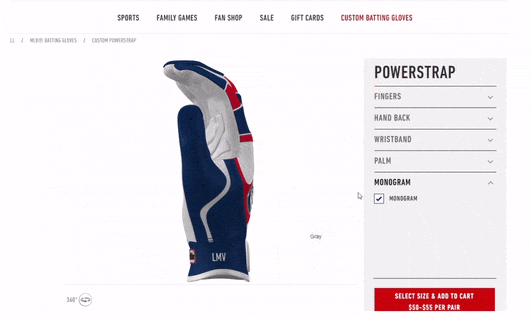 2. Make It Easy to Find the Right Size & Fit
According to Retail Dive, 48 percent of U.S. consumers purchase multiple sizes of the same item, only to return the ones that don't fit.
This often happens because ecommerce retailers don't have adequate information on sizing or fit for their products.
Fortunately, this is also an easy fix. DO:
Provide clear sizing information for all products with precise measurements for each element of the product
Consider using a product personalization interface to allow users to enter their measurements to create a personalized fit
Ask for sizing information from customer reviews and list that information clearly
Use standard measurements instead of vanity sizing or other deceptive practices
3. Provide the Perfect Product Personalization Experience
Product personalization has loads of benefits, but one of the most important is the reduction of overall returns.
That's because when you offer the chance for customers to design exactly what they want, they're more likely to be happy with the final product.
How can you get started with product personalization? One of the first steps is to look for a full-featured product personalization platform. 
For example, ConfigureID's product personalization platform allows you to offer shoppers a limitless array of predefined colors, patterns, materials, and much more. It can also allow them to add a name, monogram, personal message, or even upload their own imagery to the product. 
Offering product personalization is one of the best ways to deliver the exact product each shopper desires, helping brands increase loyalty and margins while greatly reducing returns.
Check out the highly engaging product personalization experience offered by Louis Vuitton for some inspiration: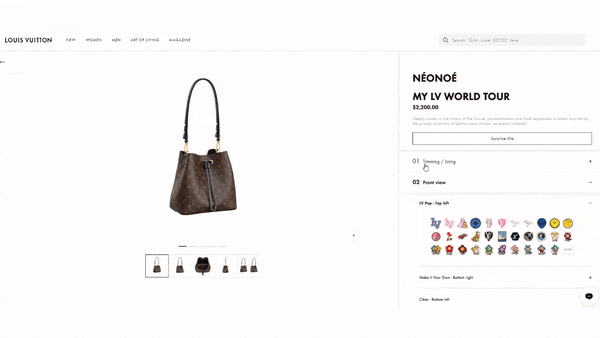 4. Get Product Personalization Details Right. Every Single Time.
Your imagination is probably running wild with all the different types of product personalization you could offer to your shoppers. The sky could be the limit. But you'll need to come back to earth for a minute and make sure that you can follow through and deliver those creations.
That means offering product combinations that you know you can fulfill on time. 
This is easier said than done. However, a reliable product personalization platform will help you here, too. Make sure to look for one that:
Has sophisticated configuration logic to prevent customers from ordering something you can't produce
Integrates with your ecommerce platform to streamline the transaction, production, and delivery of each personalized product
Has a self-serve content management system (CMS) that allows you to control add and remove personalization options quickly and easily
5. Prioritize Reliable Packaging and Shipping
Even if you get everything right during order fulfillment, there's still plenty that can go wrong once things are out of your hands.
Forrester once found that as many as 20 percent of shoppers returned items because they arrived damaged. And while it wasn't the retailer's fault, returns mean they're left to foot the bill for goods they can no longer sell.
Prevent this by:
Choosing a reliable shipping partner, rather than the least expensive.
Offering the option of shipping insurance (if your carrier provides it)
Investing in durable packaging that protects your merchandise, door-to-door
6. Give Your Customers an Incentive to Leave a Review
Customer reviews are valuable. When they're positive, they serve as powerful social proof to other potential customers. When they're negative, they provide market information that you can use to adapt and improve the ecommerce experience you offer.
Incentivizing reviews can help generate them. We recommend that you:
Consider acknowledging and responding to all reviews
Offer personalized discounts or coupons to reviewers 
Display reviews prominently on your site
Ask specific questions that help support product development research
7. Make Returns a Stress-Free Experience
According to research by Returnly, 80 percent of consumers consider the return process before making a purchase. Additionally, some 73 percent won't shop with a brand again if it makes the return process difficult.
In an era where return fraud has spiked by some 35 percent, it might seem counterintuitive to make returns easy. However, not only does this help customers feel like you're genuinely there to help, it makes them feel better about taking a chance on the purchase in the first place.
We recommend you do a few things to simplify the process for you and your customers:
Make the return period longer. Doing so removes the urgency that customers may feel to rush an item back. It can actually encourage people to hang onto the item after all.
Collect data about returns. Find out why people are returning items. It might help you spot problematic products or shoppers prone to abusing your policy.
Work with serial returners. People who frequently return items may be doing so because a genuine pain point exists.
Handle return abusers promptly. Always assume returns are legitimate but pay attention to people who abuse the system. Don't be afraid to put your foot down if someone is clearly taking advantage of a loophole.
Reduce Online Returns with Product Personalization. We Can Help.
Many of the reasons for product returns can be reduced or avoided by getting things right the first time. Whether that's providing stellar product visualization or offering the perfect product personalization options, it all comes back to one thing: creating the best possible ecommerce customer experience.
See how ConfigureID can help your brand increase margins and loyalty with our premium product personalization platform.