Whether you're using it or not, it's likely that user-generated content about your brand already exists.
Every online comment, review, or social media post about your brand falls under user-generated content. Brands that know how to use user-generated content for ecommerce tend to outperform their competitors. 
When you combine user-generated content with product personalization, you can attract more customers and convert them into loyal buyers. 
With today's consumers looking for authenticity from brands before trusting them, you should be providing your customers with a voice as much as possible.
In most cases, brands use user-generated content (or UGC for short) to let shoppers market their products for them.
Research shows that 75% of marketers believe UGC is great for promoting authenticity and 70% of customers approve of the increased transparency it offers. 
This blog will tell you everything you need to know about UGC and how you can use it as part of your product personalization offers in your ecommerce business.
What is User-Generated Content for Ecommerce
At its heart, user-generated content refers to any content your customers create about your brand of their own free will. It also refers to personalized messages that they can apply to your products when shopping online.
The most common forms of UGC are:
Product reviews and social media posts
Forums or discussion boards
Unboxing or tutorial videos
Personalized content that users can add to a product
While marketers understand the value of UGC for building trust and authenticity, it's less common to use it for product personalization.
The rise of social commerce is also reshaping the ecommerce landscape for brands that want to increase sales and provide engaging experiences.
Social buyers want to share their experiences online and engage with other like-minded customers. A UGC strategy should extend beyond your current funnel approach and inform every aspect of your product personalization and brand identity. 
The Benefits of Using UGC for Ecommerce
Any time you can create a connection between your brand and its customers is an opportunity to grow awareness, increase conversions, and create emotive experiences.
Traditional uses of UGC mainly focus on testimonials or influencer marketing to promote a brand across digital and social channels. 
With product personalization, you can take your UGC to the streets. Customers expect product personalization and if you can include UGC in the buying journey, it's likely that the item will also start conversations offline.
More customers now want customized products and experiences available online. You can use UGC to make these buying journeys memorable.
Examples of Using UGC for Ecommerce and Product Personalization
Product personalization is a growing trend that no ecommerce brand can afford to ignore any longer. The shifting expectations from consumers mean that any kind of personalized buying journey you provide will attract more customers that remain loyal to your brand.
Here are three examples where brands combine UGC with product personalization for better ecommerce experiences. 
1. Personalized Gifts from Yankee Candles
Yankee Candles gives customers the freedom to design the perfect candle according to their own needs. You can choose the candle form such as a jar or tumbler before picking a fragrance you want for your candle using their product configurator.
Once the customer is happy with the form and fragrance, they can also include a personalized image on the jar and add some text to make it truly personal. Although the company provides premade images that mark special occasions, customers can upload any of their own images such as a photo or logo.
Customers have an interface to edit the image to make sure it fits perfectly on the type of candle they choose, and they can pick a border from a predefined list.
Finally, customers can add two different lines of custom text, making the entire product a perfect example of combining UGC with product personalization. What's more, each change the customer makes shows on the product image and they can interact with the custom product, print a copy, and share it with friends on social media before making the purchase. 
To see how it works, check out their UGC and personalized product configurator here.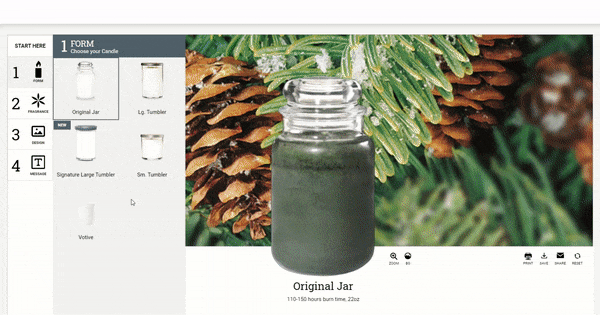 2. Designing Iconic Sunglasses with Ray-Ban
In the Ray-Ban ecommerce store, customers can design their own pair of iconic sunglasses and add a unique personal touch to the product. The Ray-Ban sunglasses configurator allows customers to:
Choose a frame that matches their unique style
Select from a variety of lenses, including prescriptions
Add a temple style that ensures you have a comfortable fit
Include a personalized, UGC-engraving to the frames to make them truly unique
View the final product with full 3D visualization
The UGC-text engraving is completely editable with bold, regular, and italic fonts when opting for the standard engraving. There's also a premium option available with three different calligraphy styles and four different color options. The 3D photorealistic image means customers can see exactly what their design looks like before making their decision. 
Ray-Ban can charge more for these unique sunglasses and customers can create the ideal pair that matches their style and create a unique gift to mark a special occasion using the UGC features. You can see all the available features in Ray-Ban's 3D product configurator by visiting their online store.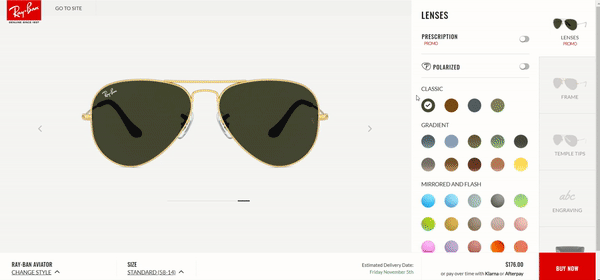 3. Stamp Your Initials on a Louis Vuitton Handbag
As one of the most recognizable luxury brands, Louis Vuitton knows the value of engaging with customers online. To make each buying journey unique, customers can customize their products online and make them stand out from normal designs.
Another feature available to customers is to add your own initials to a bag and purse. The UGC image renders immediately and shoppers can change the color of the text to suit the interior and exterior of the product.
This allows a customer to add a personal touch to the product using a personalized monogram, making each item unique to shoppers. To experience the UGC product personalization in action, visit their online store here.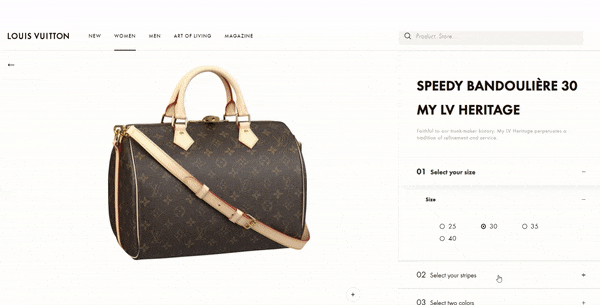 Combining UGC and Product Personalization with ConfigureID
User-generated content combined with product personalization is a great way to let your brand stand out from your competitors. ConfigureID gives brands the ability to include personalized UGC on products to create a rich, engaging experience for customers. 
As product personalization is what customers want, you can work with ConfigureID to provide full 3D product configuration capabilities on your ecommerce store. If you want more information about product personalization or to find out how we can help you use user-generated content in your ecommerce store, book a demo today.