A mass customization product design strategy offers customers individualized products at near mass production prices. Although setting up the right strategy can be challenging, many organizations now offer mass customization to shoppers using the latest product visualization and configuration technologies.
The potential upside to mass customization isn't something that brands are discovering just now either. Once we entered the information age more than 20 years ago, the National Center for Policy Analysis (NCPA) identified mass customization as a potential driver of economic growth in the United States.
The convergence of new manufacturing techniques, digital technologies, and evolving consumer expectations make a mass customization product design strategy essential for today's brands.
Below we discuss what mass customization means, explore the four main production strategies, and provide examples of brands using it successfully.
What is a Mass Customization Product Design Strategy?
By combining the latest marketing and manufacturing techniques, brands can now modify products according to a customer's individual needs. The flexibility that mass customization offers customers has improved shopping experiences while keeping manufacturing costs as close to mass production as possible.
One of the earliest publications on the subject listed four types of mass customization:
Collaborative – Companies work with clients to design customized products or services.
Transparent – Companies provide customized products without making that fact explicit to the customer.
Adaptive – Customers customize standard products according to their needs.
Cosmetic – Companies create standardized products and market them differently to specific customers.
Today's custom product design strategies may include one or more of these types of customization.
Ready to start profiting from mass customization? ConfigureID is here to make it happen.
Get in Touch Now
What are the 4 Mass Customization Product Design Strategies?
As technologies and manufacturing techniques evolved over the last two decades, companies could implement product design strategies that support mass customization initiatives. This led to four main strategies that brands use today to provide mass product customization to their customers.
1. Modular Customization Strategy
The focus of modular customization is to eliminate the engineering effort when co-creating a product. Engineer-to-order products use rule-driven design constraints to ensure that items are producible without requiring any engineering involvement during the quote and order process.
Rule-driven modular customization requires:
Breaking down the product's architecture into modules that fit together
Defining the rules that govern the product's entire range of configurable options
Providing customers with an interface to select the modules included in the design
One example of a company that uses a modular customization strategy for improved buying experiences is Fender. The Fender Mod Shop allows customers to design their ideal guitar or bass with different neck shapes, base material, color schemes, and pickups. The price of the product changes dynamically, and, once a customer is happy with how their unique design looks, they can immediately place the order and continue through the checkout process.
Via Fender
2. Platform-Based Customization Strategy
A platform-based customization strategy involves using a common base for a product, which can then be customized. This strategy is often employed by car manufacturers to create different variations of the same vehicle. It can also be used to create completely different vehicles built on top of the same base structure.
You can combine this strategy with the modular strategy to create even more cost savings while offering greater levels of customization.
Examples of the platform-based customization strategy:
Fender combines the modular strategy with this platform-based strategy, providing shoppers with nearly unlimited customization options for eight guitar models.
Another example of this strategy can be observed with Nixon's custom watches. This well-known watch brand allows you to customize four different watch models in several different ways. First, you select your preferred watch model. You then choose the case material and color, dial design, second hand color, and band material and color. Finally, you can add a personalized engraved message to the back of the watch to make it 100% unique.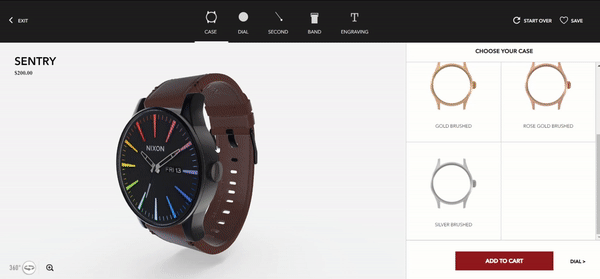 Via Nixon
Both Fender and Nixon leverage the ConfigureID product personalization platform to offer this engaging 3D customization experience to their online shoppers.
3. Similarity Product Customization Strategy
Similarity product customization involves slightly modifying the design or dimensions of a product to meet the specific needs of the customer.
Although most commonly used for complex industrial products, some apparel brands also use this strategy to make their clothing fit each individual more accurately.
For example, the clothing brand Son of Tailor offers similarity customization for its selection of men's shirts. Shoppers input their height, weight, age, shoe size, body type, and fit preferences and Son of Tailor develops a custom size meant to fit each customer better than standard sizes.
Via Son of Tailor
The process to achieve similarity customization includes:
Gathering input data about product performance and matching them to a customer's requirements
Determining any functional similarities of product subsets and material selections to improve performance
Comparing different product designs against baseline performance data to solve a customer's needs
4. Soft-Customized Product Strategy
Soft-customized products allow customers to add a unique element to an item without affecting the majority of the manufacturing process. This may be as simple as adding a monogram to a towel or including a picture of your cat on a new pet blanket.
Soft customization usually happens after the manufacturing process and is added by the retailer to make the item personalized.
Examples of soft-customized products are:
Shoes that come with different color paints that allow the customer to customize the design at home
Blankets where customers can choose different prints of images according to a set of pre-defined designs
Customized stainless steel business cards or personalized printed garments with a customer's own photo
One of our favorite examples of soft customization comes from Yankee Candle. This major candle retailer allows shoppers to add an image, personal photo, and message to its standard candles. Yankee Candle is only required to print and place the personalized label on each custom candle before shipping it.
This experience is also enabled by ConfigureID's premium product personalization platform.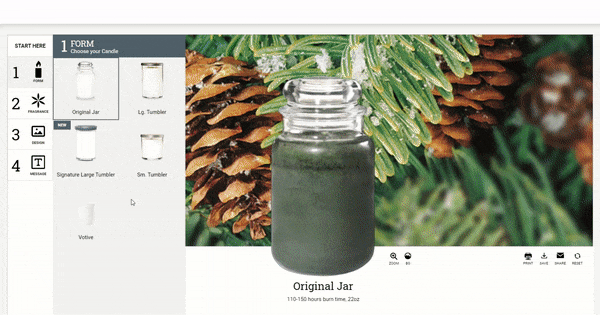 Via Yankee Candle
Develop and Deploy a Mass Customization Product Design Strategy with ConfigureID
Schedule a Demo
ConfigureID helps the world's leading brands build and deploy mass product customization using photorealistic 3D visualization, augmented reality, and an intuitive user interface.
As a product configuration platform, ConfigureID integrates with any ecommerce platform and allows you to establish any one of these strategies quickly and effectively. You can control all the engineering considerations, customize our user-friendly interface, and add or make changes to your custom products with ease.
Ready to start implementing your mass customization product design strategy? Schedule a demo today to discover how ConfigureID can help you make it happen.