Your brand needs to shine above your competitors to succeed in the challenging online retail world.
There are many strategies available for retailers that want to know how to increase sales in their online clothing business. Analysts expect consumer spending to increase in the coming years, and there are plenty of opportunities available for growing brands.
Consider some of the following projections:
By 2040, 95% of sales will be powered by ecommerce (or a similar guise)
Ecommerce almost doubled between 2019 and 2020, with researchers not expecting any backslide in the future
Currently, almost 51% of purchases are from mobile devices
From an estimated 24 million ecommerce sites, only one million make more than $1,000 per year
For online clothing stores, there's a huge chunk of profits available in the pot. To grow your online clothing brand and increase sales in the next few years, you'll need to put all your cards on the table.
In this blog, we'll look at what strategies you can deploy to increase sales in your online clothing business.
How to Increase Online Sales for Your Clothing Business
In 2022, consumers will have increased spending enthusiasm. If you know how to increase merchandise sales, you can help your brand thrive after a challenging few years.
Let's look at the latest techniques and strategies for ecommerce clothing stores.
1. Use Interactive 3D Images
A great way to attract and retain loyal customers is to provide engaging visuals using 3D product renderings on your site. Most customers now make their buying decisions based on the experience more so than the product itself.
In fact, Salesforce's "State of the Connected Customer" report found:
3D shopping experiences are popular with four out of five consumers
Almost 90% of customers want brands to accelerate their digital offerings
More than half of customers (54%) want brands to expand their customer engagement
Consumers also want brands to offer new ways to make online purchases
Interactive 3D renderings use WebGL technology to display photorealistic images of your products. By providing interactive images on your clothing site, you can increase brand awareness and attract loyal customers.
2. Let Customers Co-Create Products
Product personalization has been a growing trend in ecommerce for a few years now. The technology required to let your customers co-create items is no longer too expensive and much easier to implement.
Louis Vuitton uses product personalization to let customers add a unique touch to many of their iconic bags and apparel. Customers can personalize the lining of their bags and add any number of logos anywhere they want.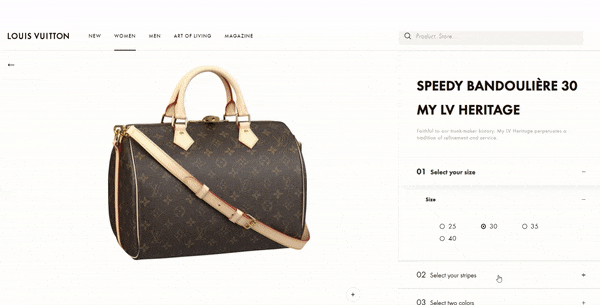 Via Lous Vuitton
The LV World Tour range of personalized products gives shoppers the quality they've come to expect from the brand while also making an item unique to each customer. You can check out their product personalization capabilities here.
3. Upsell and Cross-Sell
Following the tip above, adding personalized options to products allows you to charge a premium for the item. Customers are willing to pay more for customized products, making it a great way to upsell each customer and increase your average order value.
Similarly, you can cross-sell to your customers by adding products into collections. This allows customers to buy a group of related products for increased sales. The Louis Vuitton ecommerce shop also uses collections like "Gifts for Her" and "Gifts for Him" to mark special occasions. Just adding your clothing products to collections is a quick and easy way to increase your sales and order values.
4. Embrace Social Media Marketing
Ralph Lauren uses made-to-order manufacturing to attract new customers to its online store. Customers can customize their own apparel including the renowned polo shirt with personalized logos, colors, and materials. Once a customer co-designed an item, they can tweet or share the image to their social media channels.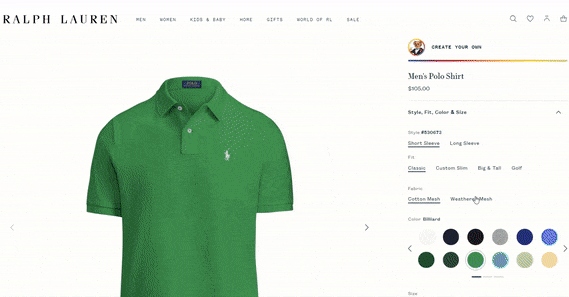 Via Ralph Lauren
Allowing customers to share their designs provides them with a more engaging experience but also acts as a social marketing channel. Providing customers with co-design capabilities and the option to share their designs will increase your sales and average order values but also attract new customers to your store.
In Ralph Lauren's store, customers can:
Change the size of any item to ensure they find the right fit
Modify the color and fabric of the clothing item
Select a specific style of shirt including long or short sleeves
Add logos and monograms to different areas of the item
Share their unique polo creations with friends using specific hashtags on social media
5. Generate Analytics to Keep Improving Your Offers
If you do provide personalization options in your store, there will still be many opportunities to improve your shopping experiences. Using a product personalization platform to let customers make changes also allows you to generate new insights about your shoppers and their preferences.
When choosing a platform for your product personalization, look for:
An easy-to-use and intuitive user interface
Complex business rules that guide customers through the journey
Full photorealistic 3D rendering and augmented reality (AR) capabilities
An analytics engine that helps you uncover any friction points
A universal platform that works with any ecommerce site
With a product personalization platform, you can drive up your conversion rates with improved buying experiences. You'll also be able to drive up your average order values by charging a premium for your personalized products.
In a highly competitive marketplace, you'll need to do everything you can to stand out from the crowd. An interactive and engaging product customization platform like ConfigureID helps you to leverage 3D and AR quickly for improved sales.
ConfigureID gives you:
Universal compatibility with all ecommerce platforms
The ability to provide product personalization online and in-store
A complete 3D product configuration solution that's easy to use
Self-service administration including dynamic pricing and configuration rules
Social media integration and mobile-friendly product customization
As consumer sentiment improves in the coming years, you'll need to revamp your ecommerce store to ensure you can cash in on increased spending. ConfigureID will work with your brand to develop a smart, effective, and engaging product personalization experience for customers.
For more information, or if you'd like to see how we can help increase your brand's online clothing sales, request a demo from ConfigureID today.