Customer retention is one of the biggest challenges an online retailer faces today. Unlike brick and mortar stores, the convenience of proximity doesn't apply to ecommerce businesses.
But which approach is better for ecommerce ventures? Customer loyalty vs brand loyalty isn't necessarily two sides of the same coin. Both concepts are strategically important when you're building your ecommerce business.
Brands like Ray-Ban enjoy success because they value customers' style choices and have built iconic ranges of sunglasses that attract new buyers and loyal shoppers alike. 
This blog will look at the difference between customer loyalty and brand loyalty, which strategy works best under certain circumstances, and what you can do to improve your brand awareness and customer loyalty programs.
Discover how you can boost customer and brand loyalty by offering premium product personalization.
TALK TO an Expert
Is There a Difference Between Customer Loyalty vs. Brand Loyalty?
The goal of both customer loyalty and brand loyalty is to drive customer retention and increase repurchase rates. Growing your business will require both strategies, especially if you haven't yet built a brand quite as recognizable as, say, Ray-Ban. Creating consistently positive emotive responses from your customers is the best way to grow your new business, and you should be using both customer and brand loyalty as part of your strategy. 
What is Customer Loyalty?
Customer loyalty comes down to the experience you provide your customers. When you get the shopping experience right, customers will have no problem visiting your site and making more purchases. 
Excellent buying experiences that help with customer loyalty include elements like:
Providing excellent customer service from the initial touchpoint to the fulfillment process
Getting the pricing for your products right, according to the needs and budget of your customers
Including promotions and loyalty programs that entice customers to keep buying from your company
What is Brand Loyalty?
Brand loyalty is a little trickier to get right. Customers who are loyal to brands usually buy items without considering the price. In essence, it's how a customer perceives your brand that will determine their loyalty.
Brand loyalty depends on:
Connecting with customers on an emotional level by consistently selling quality products
Fostering a sense of trust between your brand the customer during every buying experience
Building a long-term relationship with customers who are willing to pay more for your products
Clearly, both concepts are important to ecommerce retailers that want to increase conversions and retain more customers. The strategy you use to grow your business should include campaigns that build both customer and brand loyalty.
How to Improve Your Customer Loyalty with Examples
Customer loyalty strategies often depend on loyalty programs or promotions. While most ecommerce businesses compete on the experience, if there isn't a discernible difference between you and another company, the decision may come down to a reward program or discount on the price.
According to Accenture, almost 90% of today's organizations offer some form of loyalty program to their customers. Investments into these programs continue to increase but the tangible value isn't as easy to track. Loyal customers will quickly switch between brands if they feel the other organizations value their business more.
There are three main considerations for building a successful customer loyalty program. These are:
Early access to sales and promotions – Customers want exclusive access to any promotion you run and avoid the risk of stock running out before they can buy
Early access to new products or services – Exclusive options to buy products as they become available will help create loyal customers
Personalized shopping experiences – Recommending products based on previous buying history lets customers know you value their business and understand their needs
One example of a loyalty program that builds brand trust is the Ray-Ban Ones program. When you sign-up, you get access to special events, pre-releases of new products, and limited edition designs throughout the year. You'll also get an immediate reward from the company in the form of a discount on your first purchase after joining the loyalty program. 
How to Improve Brand Loyalty with Examples
The first step to building brand loyalty is to have consistently satisfied customers. This creates word-of-mouth marketing that increases the perception of value for your products. Building frictionless customer experiences is only the first step. Once you have loyal customers, you need to ensure you retain their trust during every interaction or touchpoint they have with your brand.
If we again use Ray-Ban as an example, the company still offers their iconic aviator-style glasses that many of today's consumers grew up seeing on the silver screen. The teardrop-shaped sunglasses that Tom Cruise wore in the film Top Gun have become indistinguishable from the brand and are just as popular today as any new range they have available.
The next thing Ray-Ban did was to increase the perception of value by adding product customization to their range of eyewear. 
Product customization builds brand loyalty by:
Allowing customers to customize an item according to their unique style, creating an emotional response with the product
Providing a rich and immersive buying experience that creates trust between the brand and the customer
Letting customers express themselves through your brand and differentiate themselves
With Ray Ban's product customization features, you can select your frame, choose different lenses, decide on the type of temples, and even add an engraving to your sunglasses. The product customization depends on pre-defined rules and uses a product configurator platform with photorealistic visualization to help customers see their selections in real time. You can check out Ray Ban's product customization capabilities here.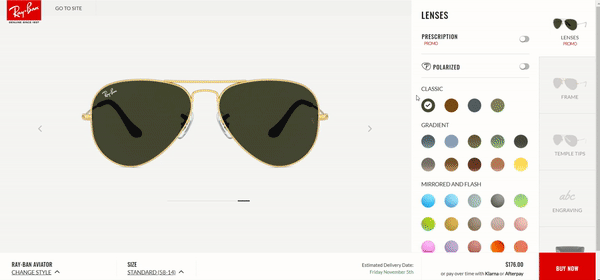 Via Ray-Ban
Building Better Experiences with a Product Customization Platform
The key to improving brand loyalty and customer loyalty is to provide exceptional customer experiences that engage and delight your visitors. By providing product customization using photorealistic 2D, 3D, and AR renderings of your products, you can attract and convert new shoppers into loyal customers. 
ConfigureID gives your brand a clear competitive edge with our photorealistic visualization, intuitive UI, and sophisticated configuration logic. Our product personalization platform empowers premium brands like Ray-Ban, Louis Vuitton, and Fender to increase engagement, conversions, and loyalty. With our online product configurator, you can foster trust with your customers and charge a premium for personalized products that help drive up your brand's value. 
Looking for a product personalization platform that will help grow customer and brand loyalty? Request a demo from ConfigureID today.