If you haven't jumped on the ecommerce product personalization bandwagon yet, then now is the time to do so.
Consumers want personalized options when shopping online now more than ever.
Not entirely convinced?
Researchers recently found that ecommerce product personalization is one of the best ways to grow your brand, you'll also increase sales and attract new loyal customers.
Some of the major findings were:
Consumers are willing to pay more for product personalization – up to a 25% premium
A clear definition of product personalization is still outstanding.
Younger generations want product personalization, with 83% saying they want products personalized within hours
The trend of ecommerce product personalization isn't going away any time soon. Below, we'll give you five steps you can take to get started with personalization for your ecommerce business.
What is Ecommerce Product Personalization?
Product personalization is vastly different from personalized buying experiences.
With product personalization, you put the power in your customer's hands. The main difference with product personalization is you give customers the ability to add a personalized touch to items.
This increases conversions and helps customers make confident purchasing decisions.
Yet, research shows that customers are unclear about what product personalization actually is. Customers tend to use the term interchangeably with product configuration or customization.
Currently, the best distinction between the three options are:
Personalization – Adding a unique touch to a product, often using user-generated content such as a monogram or personalized graphics.
Configuration – Choosing between a set of pre-configured options such as color or finishes from a list of different pre-approved product configurations.
Customization – Similar to personalization but may include complete customization where you give customers the ability to assemble a unique product.
Regardless of the definitions above, most customers want the ability to buy products that match their personal preferences. Ecommerce retailers who provide these services will attract new buyers and convert them into loyal customers.
In today's world, consumers are balancing the value of a personalized product with the importance of data privacy.
Knowing how to offer your ecommerce product personalization services is just as vital as the options themselves. You need a way to offer your products so that trust is built and your customers are engaged. Here's how you can get started with ecommerce product personalization today.
Engage Your Customers with Product Personalization from ConfigureID
Get in Touch Now
5 Steps to Get Started with Ecommerce Product Personalization
One of the best personalization examples comes from the brand Louis Vuitton. They are fusing co-creation with a personalized design to maximize customer satisfaction.
The brand is constantly expanding its personalized product range. These options make it possible for customers to stamp their unique identity onto luxury items.
Louis Vuitton continues to show the benefits of personalization in ecommerce. For other brands, it's a major opportunity to uncover hidden value from ecommerce operations.
Follow these five steps to start offering product personalization in your ecommerce shop.
1. Create an Ecommerce Product Personalization Roadmap
The first step is to identify what your customers want personalized and how you can provide it to them. Define a framework that lists all your products and what possible personalization options you can offer.
Colors play a vital role in a consumer's buying decisions. Something as simple as letting customers choose a color scheme can get amazing results. If you can offer different colors, you should! Just adding different color options will help you stand out from the crowd like these custom Nixon watches.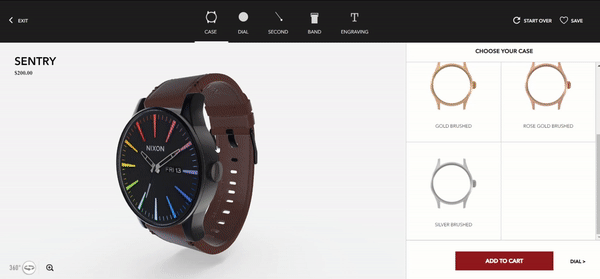 Via Nixon
With your roadmap in hand, you can start refining your strategy.
2. Collect Customer Data and Personalization Analytics
You should already have personalization data and analytics for your ecommerce store.
To refine your strategy, you need to collect information about what personalization options your customers want.
Check out what your competitors are offering and read product reviews to see what customers are saying. You can even survey your existing customers and get direct feedback from your loyal buyers as part of a campaign.
The information you receive should allow you to pinpoint what products customers want to personalize. You can then engage with your suppliers and manufacturers to see what you can offer.
3. Define Your Buyer Personas and Design the Marketing
Buyer personas are essential when you want to market personalized products and target the right customers. One example of perfect marketing to a specific target audience is Fender.
In Fender's Mod Shop, customers can co-design almost every element of a guitar according to their own personal tastes. This goes beyond just simple personalization.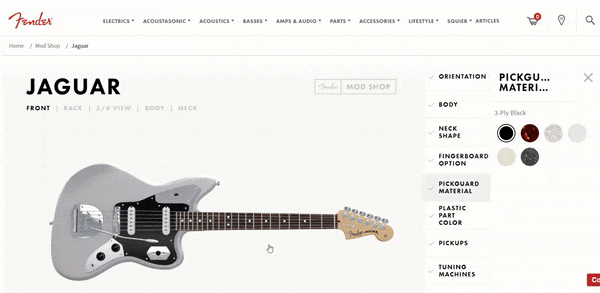 Via Fender
Once you know what persona your product speaks to, you can organize your marketing strategy and start building your campaigns.
4. Find Case-Appropriate Solutions
The technologies you need should match your overall personalization strategy. This may require you to discuss your necessities with your suppliers.
Regardless of how you personalize the product, your customers need to know what options are available and they should be able to make changes in real-time.
A product personalization platform like ConfigureID gives you all the tools you need to provide these options on your ecommerce. You can integrate with any online store to provide immersive product personalization experiences for your visitors. The platform makes it possible to optimize your experiences with augmented reality, 3D product renderings, and a user-friendly personalization interface.
5. Implement and Refine
Now that you have all the information available – including your technology selection – you can implement your strategy. Once you launch your personalization options, remember to continue collecting data about customers to refine your offers according to their needs.
You can do all of your updates and changes on ConfigureID's platform and continue to add new personalization options as you identify new opportunities.
Giving your customers what they want is the best way to grow your brand and create a loyal following. With ConfigureID, you can deliver personalized product options that are easy to use and engaging for your customers.
Product personalization will help you stand out from your competitors and can boost your average order value for increased profits.
Schedule a demo today to see ConfigureID's ecommerce product personalization capabilities.