You've heard it before–the world is going custom.
But what does that mean?
It means that at least 36% of your customers want customized products, and most will pay a pretty penny or three to get their hands on it.
It means that brands now deliver exactly what their customers want… every single time.
If you're wondering what product customization is, you're in the right place. Here's everything you need to know about what it is (and is not!).
Customization vs. Personalization vs. Configuration
What is product customization? And how does it differ from personalization and configuration? Those are both brilliant questions!
Product customization involves offering goods that have had their colors, elements, and/or features altered according to customer preferences. In customization, the brand provides a selection of options for the customer to choose from.
An example is Fender's custom-made guitars. Fender provides many different options for each part of the guitar for their customers to choose from. You can choose the color and material of the guitar body, the neck shape, fingerboard options, and much more.
In contrast, product personalization takes things a step further by inviting shoppers to embellish a product with their own content. This often takes the form of personalized text or images but is not limited to that. (We personally love the monogram options you can get with Louis Vuitton, for instance.)
A product can be customized, personalized, or both. Either way it happens, shoppers will typically use what's called a product configurator. This is basically a fancy term for the interface that lets you visualize and select your options.
Product configuration is simply the act of picking out your options, which is offered at a basic level by many of the top ecommerce platforms. However, you can take product configuration to the next level (like our clients do) by integrating an advanced product configuration platform that offers features like:
Real-time product imagery updates
3D and AR product visualization
Robust product customization and personalization options
Support for user-generated content (UGC) and clip-art
Automatic pricing updates
Support for complex configuration rules
The ability to manage your custom products independently
You'll sometimes see product customization, personalization, and configuration used interchangeably, even though they can mean slightly different things. The important thing to remember is that they all accomplish the same goal: empowering shoppers to create the exact product they desire, with confidence.
Are you ready to take your business to the next level? Your complete solution for product customization and personalization is just a click away.
Schedule a Demo
Why Your Brand Needs to Offer Customized Products
Our 2020 consumer insights report revealed that the number of shoppers planning to purchase 8 or more customized products increased by 233% from the previous year.
So, other than the fact that people overwhelmingly want them, why should you offer customizable products to your shoppers?
There are many other reasons why your brand can benefit from offering product customization and personalization.
For example, research shows that offering customized (and personalized!) products increases sales by as much as 30 percent. These types of products also:
Increase revenue. From boosting overall sales to enhancing the average order value, customizable products bring in more money all around. (Our research shows that 90 percent of customers will pay more for a customized product!)
Improve brand loyalty. It's scientifically proven that exposure breeds attachment. That's true whether it's a person or a product configurator that's fun to play with.
Fulfill intangible customer needs. Customizable products fulfill user needs for self-expression and uniqueness, something that's otherwise hard to achieve in a world full of mass-produced goods.
Enhance the sense of value. Customized products can take advantage of the Endowment Effect. It's a psychological bias that leads us to value things more simply because we created (and now own) them.
Ways Brands Can Offer Customized Products
Now that we know what product customization achieves, let's look at the different ways brands can offer customized products to shoppers.
Here are the top three ways your brand can leverage product customization:
1. Offer Bundling for Complementary Products
Product bundling is one of the simplest ways to offer product customization. It involves the curation of product collections based on customer preferences or shopping history. And it's a great way to cross-sell related products while creating a flawless shopping experience.
Product configuration technology like ConfigureID, allows you to display related products together, just like you would on a mannequin or in-store display. But better yet, your customers can mix and match different products according to their personal preferences and see what they will look like together before making the purchase.
The Young's Suit configurator provides an example of product bundling in action:
By Way Of Young's Hire
In this configurator, none of the individual components are custom made. Instead, the configurator merely functions as an interface to collect everything shoppers need to look dapper rather than hunting through the site.
The beauty here is the ability to visualize the final product rather than having to guess if certain colors or patterns will work well together. Besides outfits, consider applying this solution to things like:
Room décor
Bedding sets
Settings for tables
Office accessories
And any other product sold in sets
2. Embellish Your Standard Products
If you want to take product customization to the next level, consider allowing shoppers to embellish your off-the-shelf products.
With an advanced product customization platform, you can offer any number of logos, clip-art, or other imagery to be embroidered or printed on the final product. You can also offer text personalization, including the option to add a monogram or personalized message.
Ralph Lauren's custom Women's Polo Shirt provides a great example of this type of branded product customization: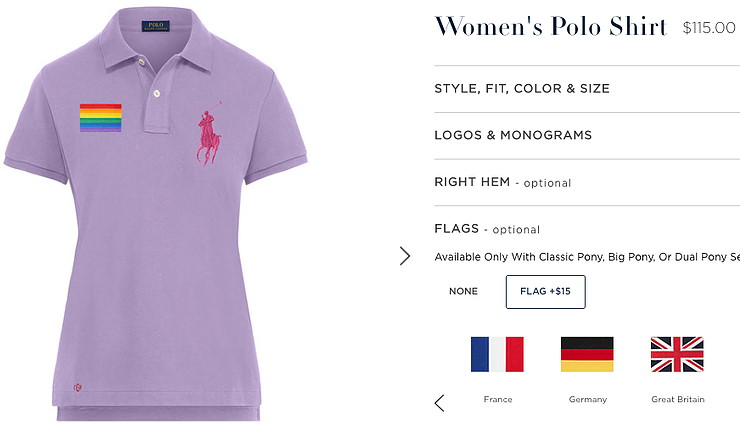 This product configurator allows shoppers to add their personal flair to the traditional Ralph Lauren Polo shirt while still ensuring any option selected remains on brand.
3. Custom-Manufacture Your Products
Custom-manufactured (or made-to-order) products represent one of the most advanced types of product customization. Although the user interface is similar to the previous example, the production requirements can be more complex.
This type of product customization delivers a tremendous amount of freedom to your shoppers and is one of the most exciting ways to differentiate your brand.
One of the potential worries you may have is the increased delivery time required for custom-manufactured products. But as it turns out, this is not something that concerns most of your shoppers. In fact, our research shows that 58 percent of customers will wait a little longer for a customized product.
A great example of a made-to-order customized product is the Franklin Sports customizable batters glove configurator. With it, you can choose from countless combinations of colors, materials, and optional add-ons to create the perfect pair of batting gloves.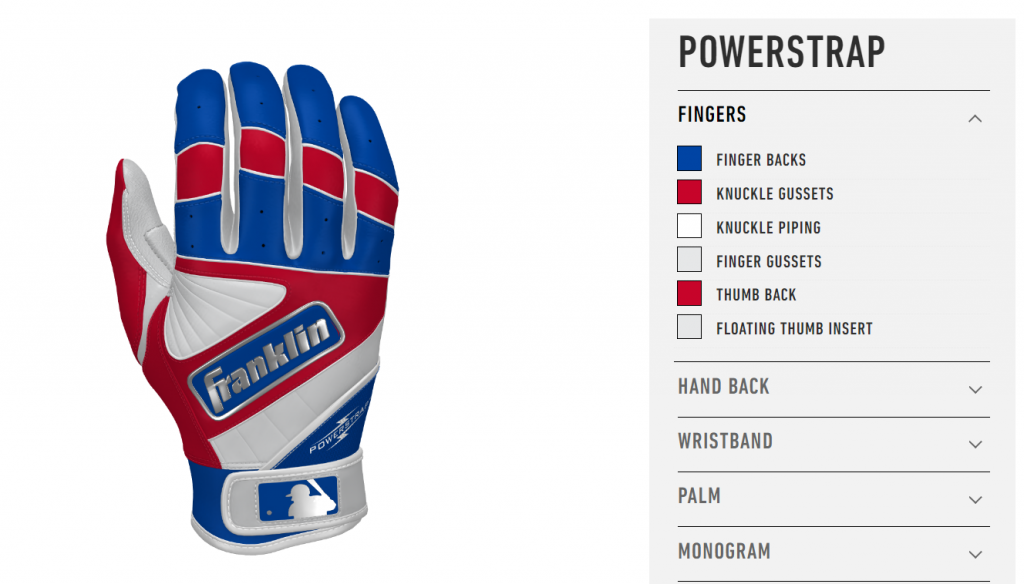 Via Franklin Sports
There you have it. We've covered what product customization is, why brands should offer it, and the different forms it can take.
Product customization is outstanding not just because it improves profit margins and boosts customer loyalty. It's also a great way to offer desirable products that are highly prized by their owners.
Whether you're offering thoughtfully curated bundles or made-to-order products with every combination imaginable, we've got your back.
Request a demo today to discover what product customization can do for your brand.