Eyewear is a booming industry in both the brick-and-mortar and ecommerce retail industries. Whether it's to make a fashion statement, protect your eyes, or simply to find your way around, the eyewear market continues to grow every year.
In 2020, analysts estimated that the global eyewear market reached about $105 billion and the expectation is that it will grow at 6% CAGR until 2028. While brick and mortar still dominate most sales, Grandview Research reports that about 1 in 5 shoppers are now buying eyewear online. Any retailers that want to grow revenues will need to keep up with the latest eyewear marketing trends.
Many of the major eyewear brands are moving operations online but ironically, some ecommerce retailers are also opening up brick-and-mortar locations. Glassic and Vision Service Plan started selling glasses in physical locations in 2020, showing that an omnichannel sales strategy is likely the best way to capture a larger share of revenues.
Some of the main marketing trends the big eyewear brands are using include:
Social media marketing based on careful assessments of audience analytics
The use of influencers to run new marketing campaigns across digital platforms
Providing virtual consultations and eye-checkups online for greater customer convenience
For this blog, we will look at key eyewear marketing trends driving ecommerce sales and discuss how you can leverage them to drive sales for your online store.
Top 3 Eyewear Marketing Trends Shaping the Industry in 2021
Eyewear remains predominantly a fashion accessory even when the wearer has a medical reason for buying glasses. As even people who have to wear glasses will choose a pair based on how it looks on their face. And every year brings new designs, innovations, and sometimes a reemergence of past styles.
In 2021, popular styles included retro aviator glasses, maverick frames, ellipse styles, and transparent frame designs. The types of glasses you sell will likely follow the latest fashion trends, but this alone won't make your ecommerce site stand out from competitors. To help increase conversions and reach a wider audience for your eyewear products, consider these top three eyewear marketing trends for 2021. 
1. Customer Satisfaction Relies on Instant Gratification
Consumers are spoilt for choice and have very little patience today when it comes to shopping online. Your visitors will expect immediate responses to questions, want a personalized experience, and demand expedited delivery of their goods.
For retailers selling eyewear online, one of the best ways to convert more customers is to optimize the fulfillment process. Younger generations aren't used to waiting weeks for a product and often will opt for a less appealing pair of glasses if it means they can have it quicker. To convert more customers, you may need to consider an omnichannel distribution strategy to ensure you can serve customers who aren't willing to wait for an item.
With brick-and-mortar retailers moving online (and ecommerce ventures now opening physical locations), your eyewear business may need to embrace both models if you want to outperform your competitors.
2. Virtual Try-On with Augmented Reality
One of the ways you can stave off the demand for instant gratification is to include a virtual try-on (VTO) service using augmented reality. By adding VTO features to your site, your customers can experiment, test, and fall in love with a pair of glasses before they ever receive the product.
If a customer knows the product will look good on them, they may be more willing to wait to ensure they get the pair they want. Augmented reality is redefining what's possible with ecommerce sales for any type of product.
Unlike virtual reality (VR), augmented reality (AR) allows your customers to superimpose your products into the real world. Using AR in eyewear lets each customer see exactly how a pair of glasses will look on their face and is now a defining trend for online eyewear sales. AR technology is compatible with computers, tablets, and mobile phones.
Some of the benefits of using AR in eyewear include:
Your customers can do real 3D fittings of glasses while shopping online from the comfort of their homes
It allows your customers to share their selections with friends and family (or on social media) and get additional input about their choice of eyewear
You can elevate your brand above other eyewear retailers by providing a fun, engaging, and memorable shopping experience
With VTO features, you remove the uncertainty and reassure your buyers before they make the final decision
3. Give People A Choice to Customize Their Glasses
Finally, the idea that one design suits all is no longer sustainable. Customers want to stamp their personality on the products they buy and providing personalization and customization features are driving more buying decisions every day.
Giving customers the ability to design personalized eyewear according to their unique styles and preferences helps drive conversions, increases customer satisfaction, and allows you to charge more for the product.
Ray-Ban currently uses a product customization process that allows:
Customers choose a base style for their new glasses
Customize the frame's material and color according to their preference
Design their lenses and play with different tints and colors
Include personalized engravings and markings (like monograms) on the frames
Add temples and temple tips according to their liking
Once the customer is happy, Ray-Ban will make the custom pair of glasses and deliver them within six days. The ability to design a custom pair of Ray-Bans and have the product delivered within a week will become the standard for online ecommerce eyewear brands.
Check out how it works: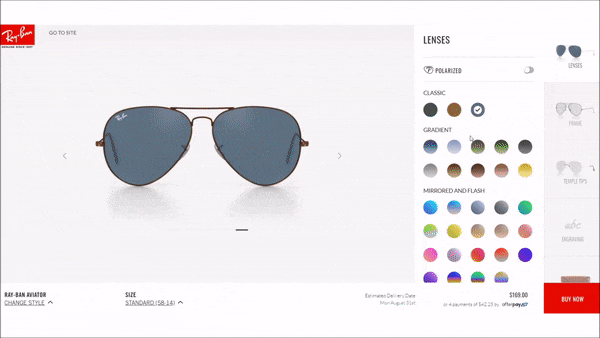 Via Ray-Ban
Including these features no longer requires you to spend ages developing new software or integrating complex third-party plugins on your site. You can use a product customization platform like ConfigureID to build in all the product visualization, VTO, and 3D modeling features in an easy-to-use, intuitive interface.
ConfigureID helps brands to build engaging ecommerce experiences using 3D product visualizations and the latest technologies to drive conversions, increase brand loyalty, and deliver immersive experiences.
To see how ConfigureID can help you keep up with the latest eyewear marketing trends, speak to the product visualization experts today.