Custom shoes are some of the most popular products available online today. The global custom shoe market will continue to grow along with the footwear industry, which analysts expect to maintain 4% CAGR until 2026.
Custom shoes are a big deal. For ecommerce companies selling shoes online, product customization is becoming a key differentiator when consumers make buying decisions. Whether it's for dress shoes, sneakers, athletic footwear, or any other related product, there is an increased demand for giving your online customers access to customization options.
To help deliver engaging experiences to your visitors and allow them to co-design their products, you can customize your shoes online using these best practices, current trends, and the latest technologies.
Consider that:
You can charge more for customized products (up to 25%)
Customization generates word of mouth marketing (especially for shoes)
To satisfy your customers, you have to meet their customization expectations
How to Customize Shoes Online – From Sneakers to Formals
Different types of shoes allow for different customization options. Online options include everything from designer sneakers to orthopedically designed loafers. Whatever personalization options you choose to provide, you'll need to show customers what's possible with your shoes.
A product customization platform helps you build an interactive, engaging product interface with 2D or 3D visuals that drive conversions and increase customer satisfaction.
Take a look at how Louis Vuitton leverages product customization for its personalized Run Away Sneakers.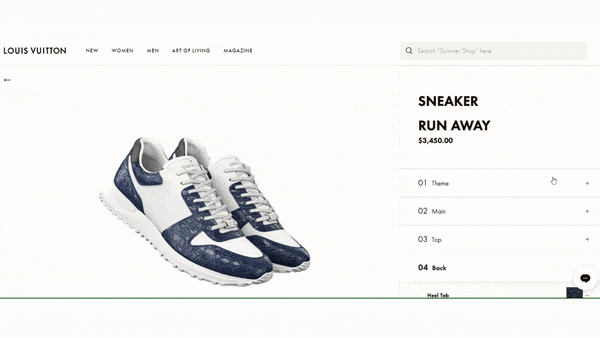 Via Louis Vuitton
What Shoe Customizations Can You Provide Customers Online?
Providing options to change everything from the sole type to the color scheme or adding custom graphics can be part of your customization process. Allowing customers to co-design their footwear and incorporate their personal choices into their daily fashion options fosters brand loyalty and increases their customer lifetime value (CLV).
A typical customization process may include:
Choosing a shoe style that the customer wants (like high-tops, slip-ons, or old school sneakers)
Letting customers choose the base color or combining different colors to make up the basic design
Allowing customers to choose how they want their color scheme applied to the type of shoe
Adding customized graphics and text
Consumers will pay more for customized products, according to a study by Deloitte. The ability to make an item more personal appeals to most consumers and adding these luxury options are ways for brands to grow new revenue streams.
3 Tips for Online Shoe Customization Options
In a saturated ecommerce shoe market, product customization is one of the best ways to increase customer satisfaction. In the sneakers community, custom kicks are a big deal, and the more personalized the pair, the higher they go in value.
While most sneaker designs won't make the front pages, custom configurations will have special meaning to every individual designer. To help you provide a customization experience for your shoes online, consider these three tips.
1. Know What Capabilities Your Competitors Have
Custom shoe designs are more common than you may think. Every major retailer offers some form of customization, with the biggest brands going all out to provide the most personalized experience. NikeID started in 1999, and now it generates significant income for the trainer and sports shoe brand.
Once you know what your competitors can do, check what's possible using your suppliers and manufacturing networks. Almost every shoe brand is going for direct-to-consumer sales, and customized options will attract an increasing share of the market. Nike's example proves that online shoe customization will be a reliable source of revenue for all brands in the future.
2. Collaborate and Co-Design With Customers and Artists
Customers may want designs that express their unique personalities and your product customizations should help them do that. Shoes can be a special canvas for those consumers who place greater value on the items they wear every day.
To help make your customization process as engaging as possible, remember to:
Include standardized templates to help them get started and enable you to control the basic parameters
Use eye-catching 3D product visualization show shoppers exactly what their custom shoes look like
Let customers share designs with friends and family online and across social media
3. Deliver Stunning 3D Product Visualizations
To sell your custom designs, you'll need to provide 3D previews of the creations to your customers. Conversion rates increase by as much as 40% when you include 3D product visualizations with your customization options.
Once a customer settles on a design, they'll want to rotate and double-check the final effects before finalizing their order. 3D product renderings allow customers to iterate designs and then check every available angle of the product before making their final decision.
You can use 3D product visualizations to:
Demonstrate custom shoe designs in a rich and engaging photorealistic environment
Ensure customer satisfaction by showing them how the final design will look like before they buy
Increase conversion rates, as once a customer goes through the customization process, they are more likely to complete the purchase
How to Provide Shoe Customization on Your Ecommerce Site
Using a product personalization platform like ConfigureID is the easiest way to deliver rich and engaging 3D product customization experience. To demonstrate customization capabilities, your company needs to deliver interactive, engaging 3D models of products with photorealistic renderings.
You should also consider augmented reality as part of your product visualization and experience design considerations. AR allows your customers to try on their custom designs and see how a pair of shoes will look from their perspective.
ConfigureID helps you to deliver a product customization interface on any ecommerce platform with 3D visualization and augmented reality features.
Deliver Better Footwear Customization Experiences with ConfigureID
By choosing a product customization platform like ConfigureID, you allow your customers to co-design their latest pair of shoes using an intuitive and easy-to-use customization interface. For shoe designers and brands, custom graphics and unique color schemes attract more shoppers who become long-term sources of revenue.
The more customization options you provide, the more satisfied customers you can expect. A product customization platform allows you to configure your products, generate photorealistic 3D renderings, and use augmented reality to place products into your customers' environments.
Generating the most engaging online shoe customization experiences starts with a product configurator like ConfigureID. To learn more, request your free demo now!