There's a brave new world in ecommerce and it's powered by 3D. The technology you need to use 3D modeling for product visualization has advanced dramatically over the last 10 years. Today, you can provide rich and engaging visual experiences on any browser across any device. The market also progressed. Brands now understand the necessity of going digital, and experience design is all the rage with CMOs around the world.
From furniture and apparel to accessories and jewelry – ecommerce brands are embracing the use of 3D visualization. In 2019, the 3D visualization software market topped out at $1.48 billion but by 2027, it will reach almost $8 billion by growing at a whopping 23.1% CAGR per year.
The sudden growth in the industry is due to the convergence of multiple technologies:
Digital commerce – Ecommerce rose to outpace traditional retail (partly because of the pandemic and partly because of consumer sentiments)
Increased connectivity – The latest web and app development technologies like WebGL, HTML 5, and CSS makes it easier to deploy 3D models for product visualization
Consumer behavior – More consumers now expect engaging experiences while shopping online and will pay more for products from brands that know this
Below, we'll cover everything you need to know about how to use 3D modeling for product visualization. We'll also show you what 3D modeling entails and how you can use it to help increase your ecommerce sales.
How 3D Modeling with Product Visualization Helps Brands
For many ecommerce shoppers, 3D visualization is a refreshing experience. It's especially true when you compare it to the humdrum of normal product listings available on most of today's sites. A 3D rendering of a product is the best way to bridge the digital and physical divide between you and your online customers.
Let's take you through everything you should know about 3D modeling and product rendering for your brand.
What is 3D Modeling and Rendering?
To create engaging visuals of your products, there are two stages to the process. The first stage is to create a 3D model of the product. After that, 3D rendering is the system you use to display those models to your customers online.
To create the model, engineers collect data about the product and its dimensions, usually by carrying out a 3D scan of the product. Once you have the 3D model, you render the image using software to include textures, lighting, and other elements like colors.
Finally, 3D visualization uses the model with a rendering engine like WebGL to provide photorealistic, interactive 3D images to your customers.
Examples of Brands Using 3D Visualization in Ecommerce Stores
Since the technology became available, many brands embraced its capabilities to increase conversions and demonstrate their product personalization features. The use of 3D product visualization and personalization is the next frontier for ecommerce brands.
Here are some of the best examples to jump-start your inspiration.
Rocking 3D Visualization and Personalization with the Fender Mod Shop
Fender is one of the most iconic brands in the world. The guitar and bass manufacturer isn't just recognizable to most musicians, it is now a part of the world's music history since its founding in 1946.
On Fender's current ecommerce modification shop, you can:
Select any type of guitar or bass and customize the entire layout
Change the colors, materials, knobs, pickups, and almost anything else
Rotate the 3D model to view any side and see the changes in real-time
Zoom in or out on any angle of the image with full 3D rendering
Take snapshots and share your designs over social media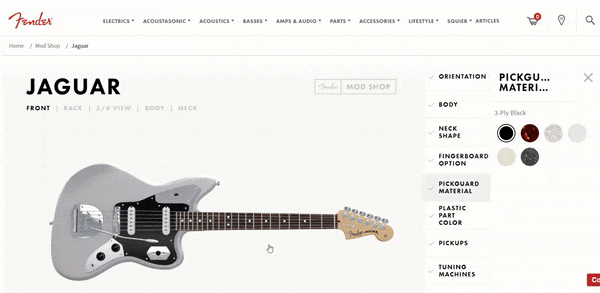 The use of product customization with full 3D modeling and rendering in real-time is revolutionary – just like the Fender brand. Musicians can design their ideal guitar and view a real-time photorealistic image of it before making a buying decision.
Enhancing Performance with 3D Photorealistic Designs from Franklin Gloves
Another great example of full 3D product visualization and customized options is from Franklin Sports. Customers can choose different colors for each element of the glove and check out the changes in real-time using the interactive 3D visualization. Brands can also add a monogram to the wrist strap to make the glove unique.
This approach to customer-centric design help Franklin Sports to:
Increase visitors to their site and convert these into loyal customers
Provide a unique buying journey to customers using 3D modeling services
Improve customer engagement by delivering an immersive, co-design buying experience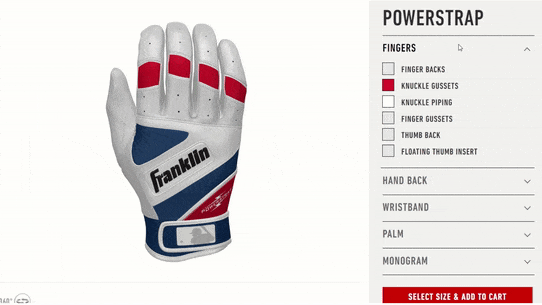 The more unique the product design is to the customer, and the better you can build trust with real-time photorealism, the better for your sales. Franklin Sports uses customer-centric co-design to make gloves unique and build a loyal brand following from their customers.
The Benefits of Using 3D Product Modeling and Visualization
Brands that knuckled down and are already providing 3D product modeling and visualization are reaping the benefits. When combined with customization, brands saw:
Increased conversion rates of between 10-30%
Average order value growth by as much as 50%
More loyal customers with 45% of buyers returning for another purchase
Succeeding over the next few years will depend on you being able to provide shopping experiences that customers want. With competitors always innovating, you can make your brand stand out with 3D product visualization and real-time personalization.
3D product configurators bring together all the capabilities your customers expect into a single platform. You can deliver engaging 3D experiences (including augmented reality) from any ecommerce store using photorealistic models of your products.
For brands that want to stand out and provide customers with the most engaging buying experiences, 3D modeling and visualization are the way to go. With the next decade of shopping being digital, any effort you make to stand out from your competitors will go a long way. ConfigureID's product personalization platform has all the 3D rendering, augmented reality, and photorealistic visualization capabilities you need.
You can also create customized products, manage your items from a self-service admin panel, and deploy ConfigureID on any ecommerce platform. If your brand wants to start delivering immersive, 3D product experiences, you can trust ConfigureID with your product personalization needs.
For any brand that needs to deploy 3D modeling and product visualization, start by scheduling a demo with ConfigureID today.