One of the big cultural shifts happening in ecommerce today is the rising demand for personalized products. Retailers know this, and suppliers are stepping up to the challenge to provide these services.
For retailers wondering where to start, monogramming is a simple but effective way to add a personal touch to a product. As long as you follow the monogram rules and placement recommendations, you can start personalizing any type of product.
The ancient Greeks used monograms to demonstrate status and stamp authority on state currencies. If ancient civilizations could do it thousands of years ago, then including a monogram on your products surely can't be that hard.
Today, monograms are a way to personalize and customize products, from towels to shirts and almost any other gift you can imagine. For retailers, providing this product customization service can help boost sales and delight customers who want a personalized touch on their items.
Let's break down everything you need to know about monograms including the rules, placement, including the latest etiquette and intent behind the demand.
Everything You Need to Know About Monogram Rules and Placement
Personalization is a major trend in ecommerce. Consumers want experiences tailored to their unique needs that show the brand values their patronage. Similarly, more consumers want to extend that experience to the product they buy. From choosing unique patterns, designs, or materials to engraving, stamping or embroidering their initials on the item – the more personal you can get, the better for your ecommerce business.
A study from Dassault Systèmes and CITE Research showed:
The demand for personalized products mean consumers are willing to pay 25% more for an item
Across all industries, 83% of consumers expect retailers to already provide personalized products
Only 21% of consumers are willing to wait longer for personalized products
Monograms are a great way to personalize the products on your ecommerce site. Just consider how luxury shoppers will instantly recognize the "LV" printed on the front of Louis Vuitton wallets, handbags, and luggage. Including monograms on your products has a powerful impact and remains a great way to personalize regular items – especially those intended to retain sentimental value.
What is a Personalized Monogram?
A monogram is the artful placement of letters (usually using a person's initials) with the intent to identify an item or product. While the practice has been around for millennia, in modern times, it is a way to add a personal touch to mass-produced products, linking the item to an individual, family, or brand in a meaningful or thoughtful way.
Parents still add monograms to their kid's clothing to demonstrate ownership but today, you can include a complex personalized monogram on gifts, luxury items, or even consumer electronics. To have the best effect, the design of the lettering, the placement on the product, and the method you use to put it on the item need due consideration.
How Do You Monogram Initials on a Product?
Traditionally, most monograms combined the three initials of a person – representing the first, middle, and last name of the individual. Those who don't have a middle name may opt to use the two initials of their name or simply revert to using only the first and last name. For couples (especially when monogramming gifts are intended for special events like weddings), it may be more complicated.
Examples of how modern monograms may work include:
Three initials using a middle name (when all letters are the same size) – John William Doe is monogrammed as JWD
Three initials using a middle name (when the second letter is larger than the other two) – John William Doe is monogrammed as JDW
Two initials that omit the middle name – John Doe may be monogrammed as JD
Three initials for a couple with a hyphenated surname – John William and Jane Susan Doe may be monogrammed as JDJ (or JJD)
Four initials for a couple with a hyphenated surname – John William Doe and Jane Susan Smith may be monogrammed as JW-JS-DS (or JW-DS-JS)
There are no specific rules for which initials a person should use on a monogram and if you're offering the service, you need to be as flexible as possible. You could even write out the full name of a person or design a unique image using a combination of all the letters. The inspiration for the monogram depends on the creativity of the customer.
Customers have the freedom to choose any variant they want and as it will only have a special meaning to the people it belongs to, there is no right or wrong way to go about it. You can even provide a monogram generator on your site to give customers a variety of options and styles for inspiration.
Where Do You Place a Monogram?
The correct placement of the monogram may be a little trickier. Once you have the design, you'll need to fit it on the item in a way that supports the aesthetics while remaining functional. For items like shirts or jackets, the left front of the breast is usually the best spot. It's also possible to add a monogram on the cuffs of a jacket, the collar, or even the forearm or shoulder.
For example, Ralph Lauren allows its customers to add a monogram in several different styles of text to the left front breast of their signature polo shirts.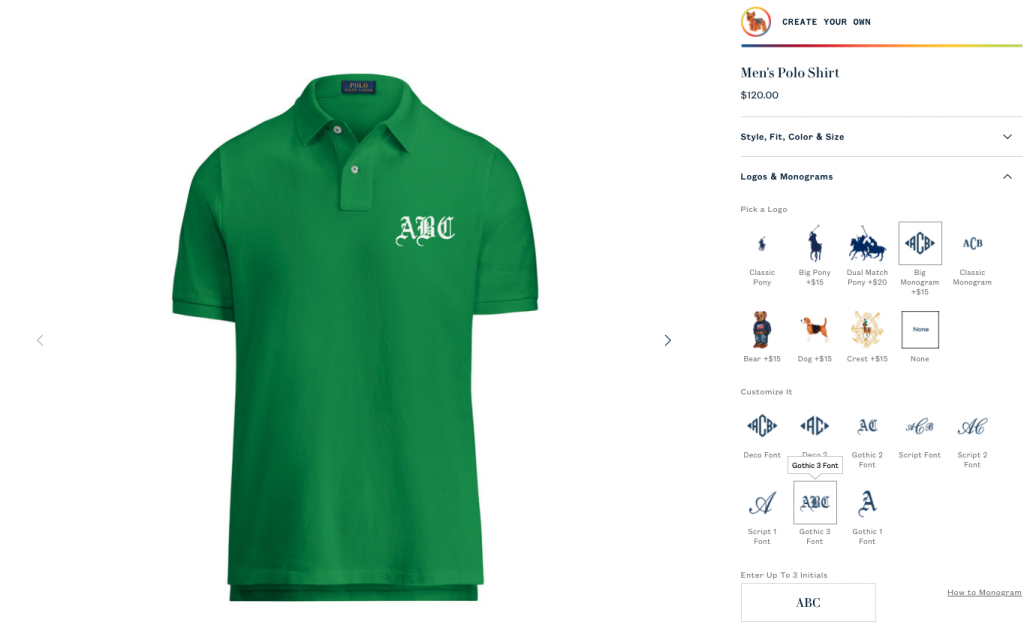 Via Ralph Lauren
The main consideration is to ensure you can add the monogram at the chosen location by allowing enough space to stabilize the area where you want to place it. If you're offering a customized monogramming service on your online retail shop, allow customers to place, resize, and view the results of their monogram design within these parameters. Your supplier or manufacturer should be able to guide you through what's possible if you're outsourcing the service.  
Where Can You Place Monograms on Non-Clothing Items?
When working with towels, pillows, or other non-clothing items, there is no limit to where you can add a monogram. You'll just need to make sure once again that you can stabilize the selected area and accommodate the required size on the item. A rule of thumb recommendation for bath towels, washcloths, and beach towels is to keep the sizes between 1.5 and 2 inches, placed 4 inches from the top of the hem of the item.
For other products like wallets or handbags, you'll need to discuss your supplier's capabilities or consider the tools you use to add the monogram yourself. When you offer personalized monograms on these products from your store, ensure you define the limits within the product customizer used on your site.
Louis Vuitton allows customers to add their initials or monogram to their luxury handbags and wallets in specific locations that ensure the size and placement of the monogram align perfectly with the brand.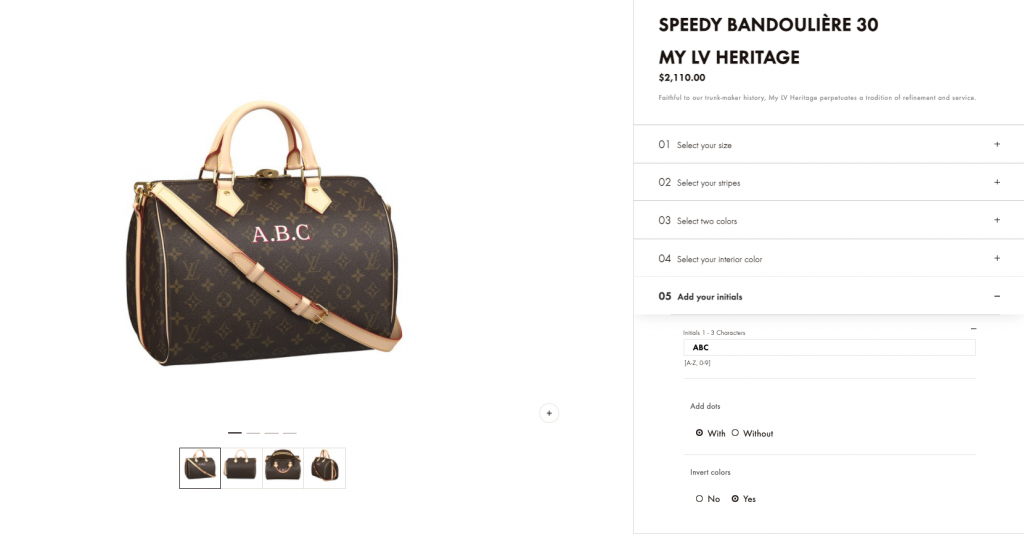 Via Louis Vuitton
What Are the Main Types of Monograms?
Monogram designs are as varied and diverse as the customers who design them. While choosing a simple design using a font with cursive lettering is popular, some prefer more intricate monograms.
Depending on the initials involved, customers may prefer:
A straight-line monogram – The letters written in upper or lower case in a single, straight line
An interlocked monogram – Customers design a monogram where the letters intertwine (reminiscent of a family crest)
A Framed or shaped monogram – The letters follow the curve of a circle or fit into a rectangle shape
The great thing about personalizing products using monograms is that the customer should have the design freedom to add what they like to the item. If you want to include monogrammed, personalized items in your online retail store, you should give your customers as many options to choose from as possible. However, you'll need to consider the intricacy of the design and make sure you can include it on the item with all the details to avoid disappointment.
Why Add Monogram Product Customization to Your Ecommerce Site?
More customers are looking for personalized products and customized options when shopping online. Historically, these services were only available in physical stores that required a person to approve the design of the monogram and ensure it was a suitable fit for the product involved.
With today's ecommerce technologies and product customization platforms, anyone can add a monogram and personalize products online before making the final decision.
What Type of Products Can You Personalize with Monograms?
Depending on the product customization platform and the suppliers you use, very few products cannot include a personalized monogram. You can monogram everything from leather goods like wallets and handbags to glassware, furniture, aprons, or bottle openers.
The key is to ensure your suppliers have this option available (or you can provide it yourself), and you offer these services to the customer without allowing mistakes to creep into the process. With a product customization platform like ConfigureID, you'll be able to provide customers with the exact details of how it will look on a product of their choice with little to no hassle.
How Do You Include Monograms on Your Ecommerce Site?
To start including a monogramming service on your site, you'll need a product personalization and customization platform. This allows customers to co-design products and personalize different elements like colors, fabrics, or materials.
Once the customer chooses the design they like, you allow them to add the monogram on the product and see what the final item will look like before they make the purchase. Using a product customization platform to personalize products will drive your conversion rates, increase your average order value, and create a more enjoyable customer experience.
Personalize Your Product Ranges with Monograms and ConfigureID
ConfigureID helps you offer valuable and interactive content using technologies like 3D product visualization and augmented reality. You can include made-to-order customization, text personalization, and deliver a unique shopping experience that lets you stand out from your competitors.
To offer personalized monogramming for your products, get in touch with ConfigureID to add photorealistic product personalization services on your site.