The retail industry is undergoing major transformations.
While this may be challenging for some, brands who lean in have an opportunity to outperform any competitor.
Any retailer that knows how to upsell online will be able to carve out a sizeable portion of the more than $1 trillion in ecommerce sales expected in 2022. 
The emergence of "mcommerce" is another potential opportunity. In 2020, almost 50% of all digital sales came from mobile devices. Analysts expect mcommerce sales to double every year until 2025.
For any brand that needs to drive up conversions, attract new customers, and increase average order values, we'll show you how to upsell your products in this year.
How to Upsell Online This Year
Most marketers want to attract new visitors to their ecommerce site and convert them into loyal customers using an engaging experience. This approach is essential to growing your brand, but if you can also upsell products on your site, you will drive up profits.
There are both upselling and cross-selling examples you can find online. The difference between these strategies are:
Upselling – After customers already made a buying decision, you can use upselling to increase the order value by suggesting upgrades or add-ons during the journey
Cross-selling – While customers go through the buying journey, you can recommend related products or bundles that increase the order value
Both strategies help drive up the order value. However, upselling means adding upgrades while cross-selling adds additional purchases. Below, we'll look at five upselling tips you can use to increase order values on your site. 
1. Provide Product Personalization on Your Site
Personalized shopping experiences help attract and convert customers. Product personalization also helps with these functions, but you can charge a premium for a personalized product.
Research shows that product personalization attracts 50% more customers who are willing to pay a 20% premium for this service. Adding personalization to your product offerings is the easiest way to increase the average order value and deliver engaging experiences to your customers. 
A prime example of upselling using product personalization is Ralph Lauren. Customers have an option to replace the iconic logo with a customized monogram. A shopper can also choose where the logo/monogram will appear on the shirt.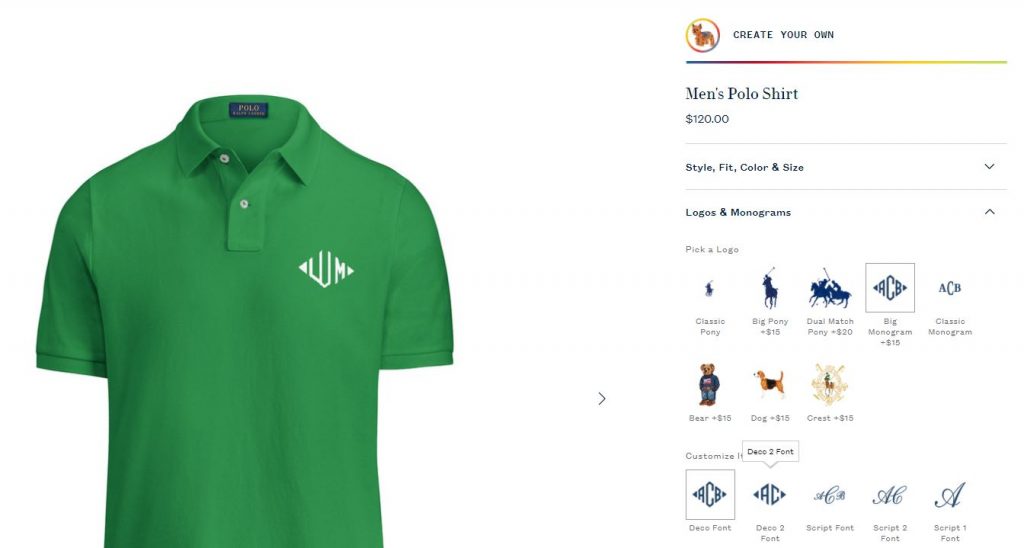 Via Ralph Lauren
This allows the brand to increase the price of the product for some of the logos and provide customers with a personalized polo shirt that they'll love.
This brings us to our next tip, product visuals.
2. Use Rich and Interactive Product Visuals
If you provide rich and interactive visuals for your products, customers gain confidence in their buying decisions. In the Ralph Lauren example above, customers don't just get to choose a logo and its placement but also see the changes they make in real-time. 
The product configurator updates the images as customers make changes, and they can see the price difference.
For brands that want to wow customers, using 3D photorealistic product renderings provides the best shopping experience for any ecommerce store.
Franklin Sports uses this approach (combining customization with 3D visualization) to upsell their sports gloves. The 3D model of the glove is interactive, allowing customers to zoom in and rotate the image for a better view.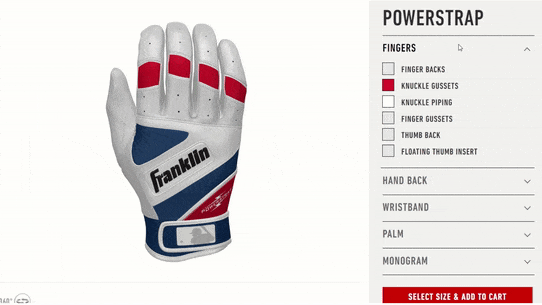 Via Franklin Sports
Any changes the customer makes to the color, including a monogram, or changing the style of the glove reflects immediately on the product page.
3. Let Customers Share Their Creations
With product personalization and 3D visualization, the next step is to include social media channels on your site that let customers share a product with their friends and family. Not only will this increase your conversions and average order value but it will attract new customers to your ecommerce store.
In Fender's Mod Shop, customers get all the benefits of designing a unique guitar and have the ability to share their co-creation with friends online. As buying a new guitar is an emotive experience, customers want to engage with a community of musicians during their buying journey. This is a valuable addition to the customer's perception of value.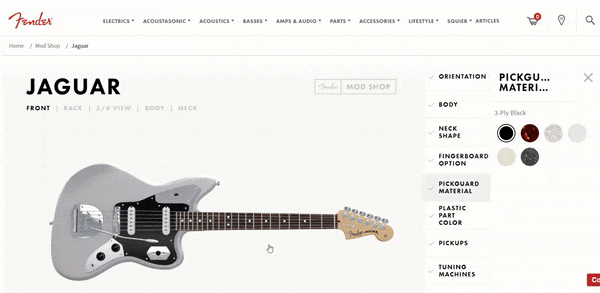 Via Fender
The ecommerce site allows customers to:
Customize any of the main elements of the guitar according to their preferences
See the changes they make in real-time including the updated pricing for any custom option
Generate snapshots for the image in full 3D from any angle
Quickly share their design on Pinterest, Facebook, or Twitter
4. Add Virtualized Shopping Experiences
The next generation of shopping experiences will combine 3D product visualization with completely immersive virtual environments. Augmented reality (AR) is already helping brands like Ikea to demonstrate exactly what a product will look like inside a customer's home or office. 
Another way to upsell your products is by creating entirely virtualized stores with interactive 3D products. Customers can browse through the different product lines as though they were walking through a store.
In 2020 and 2021, virtualized shopping experiences skyrocketed for luxury brands:
For attendees of virtual shopping events, 80% reported being satisfied by the experience
More than 50% of luxury shoppers who prefer browsing at their leisure opted for virtual experiences
Almost half of the attendees to these events went through fully guided 3D virtual tours
5. Cross-Sell with Collections
Louis Vuitton lets customers browse products by collections such as Gifts for Her. While you can still customize and personalize some of the options, it's a great way to increase your order value by combining a set of products ideal for special occasions. 
When a customer chooses a product, the site recommends additional items that will go well with their selection. This prompts the customer to maybe add another item to their shopping cart and spoil their loved one even more, which is great for the brand's bottom line. 
For any brand that wants to increase its profits over this  year, using these tips and strategies will provide effective results. A product personalization platform like ConfigureID can help you design and deliver rich and engaging shopping experiences on any device or ecommerce platform. 
At ConfigureID, we'll help show you how you can upsell products on your site with 3D visualizations, product personalization, and AR experiences.
To discuss your brand's needs with one of the world's best 3D product configuration teams, schedule a demo today.